Posted: Dec. 10th, 2012 | Comments 0 | Make a Comment
Photo Courtesy of The Sartorialist
Luxury fashion is constantly evolving, but if it weren't for the occasional rebel and rule breakers, we might still be wearing corsets and hoop skirts. In a time where Lady Gaga and "meat dress" are household names, there isn't much that can really shock us anymore. However, fashion continues to evolve thanks to those who refuse to conform to the masses. Here, we put together a list of the top three figures in fashion who are pushing the envelope and shedding a whole new light on their divisions of the industry.
Scott Schuman
How many times have we heard about mere mortals that decide to sit down at a computer one day, start publicly writing about their thoughts and surroundings, and suddenly become Internet sensations? By now, the number of bloggers who have achieved success and recognition for their candid thoughts has skyrocketed, but few have done so as artistically and, at the same time, realistically, as Scott Schuman. Photo Courtesy of The Sartorialist
He's the man behind The Sartorialist, a fashion/photo blog that was launched in 2005 and has garnered a following of fashionistas— both on the street and in the higher ranks of the industry— in the last several years. In terms of street style blogs, he practically invented them with The Sartorialist, which documents sidewalk fashion, from Fashion Week to any old day in LA. Known for capturing "real" people, his blog has helped turn the sidewalks of any big city into their own respective runway shows.
Casey Legler
Behold: Casey Legler. This 6'2 menswear-donning model is actually a 35-year-old woman. The French former Olympic swimmer is the first woman to hold a contract as a male Ford model, and she works exclusively as the opposite gender. It was just this past summer that Legler got her start in front of the camera when she was asked to step in last minute to a men's role for a Muse magazine photo shoot. Apparently she rocked it, because just the next day she was asked to sign on with Ford Models after the photos were shared with the agency.Photo Courtesy of Ford Models
As she gains popularity and exposure, one thing you can count on is Legler's consistence with discussing freedom of expression rather than gender identity. Careful to avoid labels, Legler describes herself as an "art maker" rather than an artist, and sees her newfound profession as an extension of her work. And what this means for fashion is that the industry may just follow her lead. "I understand signifiers. We're social cretures and we have a physical language of communicating with each other," Legler told TIME Magazine. "But it would be a really beautiful thing if we could all just wear what we wanted, without it meaning something."
Anne Menke
In a time when the majority of fashion photographers tend to capture the same typical photos of rail thin-models staring coldly into the distance while sporting couture threads, Anne Menke has a refreshing take on the business. The German-born photographer's work in editorial and commercial fashion photography has taken her all over the world, where Menke likes to capture glamour against exotic backdrops. Photo Courtesy of Anne Menke
On her off time from working with clients like Banana Republic, Ralph Lauren, L'Oreal, J. Crew and Nike, Menke takes advantage of her surroundings by venturing into villages to capture the landscape, culture and people of the location she's in. Her passion is documenting the style sense in other parts of the world and watching mainstream fashion then become influenced from style in the furthest corners of the Earth. More often than not, her clients will select these candid photos over those from staged shoots, which results in the audience getting to witness where fashion trends originate.
You might like :

Best Fashion Designers
Related Topics : Models, Photographer, Fashion Blogger, Fashion News, Fashion News
related articles
> WIN A TRIP TO TURTLE ISLAND FIJI
A $20,000 LUXURY GETAWAY
advertisement
advertisement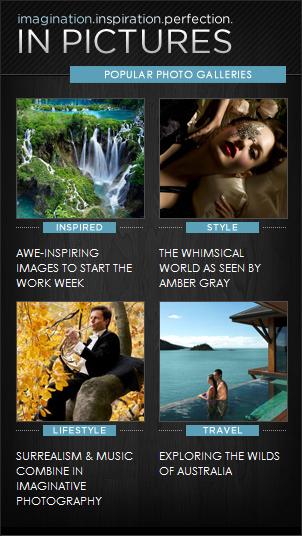 Credit: