Race week carnivals bring Auckland's social scene to life, discovers Michael Guerin.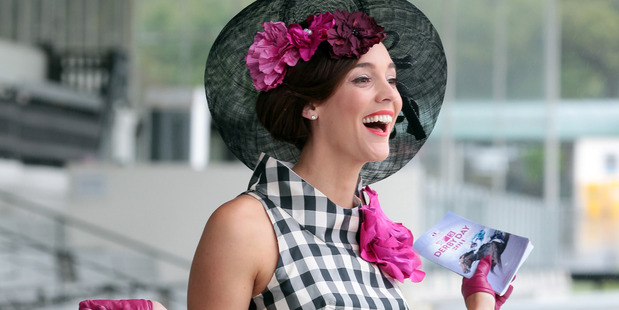 Shannon Ryan at Ellerslie Race course. Photo / Doug Sherring
For lovers of horse racing, or just lovers of a good party, it doesn't get much better than the biggest racing carnivals.
They offer days on end of opportunities to dress up and drink up, with up to 12-hour parties all fuelled by the extra rush of a gamble or a bit of rubbing shoulders the celebrities and sports stars.
England has Royal Ascot, Australia has Melbourne Cup Week and Auckland has, well, two weeks now. Because one simply wasn't enough.
Auckland used to be a one Carnival town but now it boasts two and the newcomer is quickly becoming the bigger.
The greatest racedays for both thoroughbred and harness racing used to be crammed into one week, starting with Boxing Day at Ellerslie and finishing on New Year's Day.
Or as racing people would call them, Derby Day and Cup Day.
The carnival still exists, but its shinier and corporate cousin is the new Auckland Cup Week, nine days of racing starting on February 28.
Eight years ago, the city's two major racing clubs, the social behemoth that is the Auckland Racing Club and the smaller but more regular Auckland Trotting Club, decided their late December Cup dates weren't tapping into the region's corporate dollar.
Nobody doubted the popularity of Derby Day or the tradition of starting the New Year with the time-honoured Cup. But the lure of beaches and holiday homes, coupled with the fact almost all businesses are closed at that time of the year, hurt the carnival's bottom line.
And with all racing administrators having experienced the way Cup Weeks in Melbourne and Christchurch invigorate those cities, Auckland simply had to have one.
In 2006 Auckland Cup Week was launched and both clubs agreed to move a large number of their best races to the first week of March, creating a new focal point on the Auckland social calendar out of thin air.
It wasn't 100 per cent popular, as racing traditionalists rival the royal family as haters of change, but it is hard to argue against the success of the new Cup week.
"It gives us a far bigger shot at the corporate market for a start," says Auckland Racing Club chief executive Cameron George.
"And it comes at a great time of the year. Yes, rugby has started but it is after the tennis and we usually don't clash with the cricket, which can happen on Boxing Day these days.
"Everybody has been back at work for a while but it is still summer and people are looking to party and socialise.
Read more: The Spy boys talk to Shannon Ryan about Auckland Cup Week fashion and more.
"And the bottom line is, Auckland is big enough to support two carnivals and they are both fantastic. So it is awesome for racing and the city."
The fallout is that Alexandra Park's December 31 day meeting, which used to host its Cup, is smaller than it used to be.
And the former galloping Cup Day on January 1 doesn't draw as large a crowd as it used to, even though the quality of feature racing is at least as good as it used to be, maybe better.
But both those factors could also be attributed to Aucklanders' flight from their city in the days after Christmas, leaving the city's richer suburbs looking like ghost towns crammed with million-dollar houses.
The new Auckland Cup Week clearly taps into the big-spending corporate market, and Ellerslie's prized Cuvee and Champagne Lawns are awash with fascinators, sunglasses and, on the middle Wednesday, people who really should be at work.
Ellerslie's three days have very distinct personalities.
The first Saturday (March 1 this year) at Ellerslie is TV3 Derby Day, the most glamorous day of the week with its traditional black and white theme, the jaw-dropping Prix de Fashion and New Zealand's greatest race, the Derby.
Barfoot & Thompson Auckland Cup day is the middle Wednesday and an ideal day to rob most offices in the Auckland CBD as anybody who is their own boss, and plenty of people who aren't, are wearing their best sunglasses at Ellerslie.
The final day, Diamond Day (March 8), brings the double delights of a Ladies' Day feel as well as the now famous Whips and Spurs Party, aimed at the under-30s.
It is largely fun and games off the race track, but for those who have racing as their career, Cup Week is the equivalent of test match rugby.
"It is what it is all about," says trainer Stephen McKee, who has been to the top of the racing tree.
He and his father Trevor trained New Zealand's champion mare Sunline, who is buried in the magnificent gardens behind the main Ellerslie stand.
The McKees conquered Australia, stood on the victory dais after winning the biggest Mile in racing-mad Hong Kong and took on sheiks in Dubai.
"But Cup Week in your home town is special," says McKee.
"You can feel among the trainers, everybody knows that these are the races you get remembered for winning."
"The Derby is our greatest race and I still haven't won it yet, while The Cup is a race we were all raised on. So you can see it on the faces of the jockeys and the trainers that they want to get this week right. Everything goes up a notch, probably two."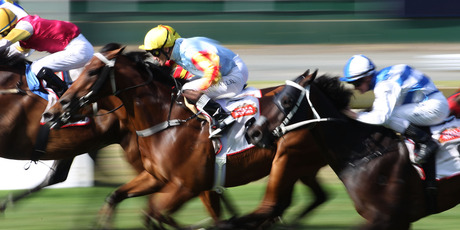 Auckland Cup Week works well at this time of year as people continue their summertime socialising. Photo / Getty Images
The lure of Cup Week at Ellerslie, and the easier and significantly cheaper nights at Alexandra Park, is that Auckland might have a lot of party people but is drastically short of parties.
We host a few one-day cricket games and Duco Events gives punters a chance to dust off their tuxedos for the odd boxing match or their league jersey for the newly formed Nines.
But with respect to a few corporate boxes at the tennis or the polo, or reliving your teenage years' buzz at the Big Day Out, Cup Week at Ellerslie is the closest thing Auckland has to a giant 20,000-person wedding reception or garden party.
And the party aspect is crucial.
Racing clubs profit from the money punters put through the tote but they make more from selling food and drinks.
Which is one reason Ellerslie's biggest racedays usually include their beloved Birdcage Bash in Cuvee, the after-party that can rock on until midnight.
Strict security ensures it's a safe place to spend your winnings or drown your sorrows.
The sight of Ellerslie's bars brimming with customers late into the night must be bewilderingly heart-breaking to inner city bar managers who try every trick in the book to get 100 customers through the doors on a Saturday night.
Those same bar managers know one of the key ingredients for the success of racing carnivals worldwide - women.
It turns out a lot of women like getting dressed up to Kardashian-like levels: think school balls or weddings. But New Zealand is short of glamorous occasions that make that worthwhile.
And once you get any number of well-dressed women in one place, men will follow. They will even wear ties and pay well for the privilege.
Wherein lies the real truth behind the Cup Weeks here and around the world.
They play host to tens of thousands of people who want to start the day looking sophisticated and finish it dancing shoe-less to Kings of Leon with plenty of nice things to eat, drink and look at it between.
Some of those things might even be horses.
Cup week diary
• February 28: Opening night at Alexandra Park (harness racing): $125,000 Pascoes The Jewellers Northern Oaks, $50,000 Co-Op Taxis 300-3000 City Of Auckland Pace.
• March 1: TV3 Derby Day at Ellerslie (thoroughbred racing): TV3 $750,000 New Zealand Derby, $100,000 Darley Plate; Prix De Fashion.
• March 2: Greyhound racing, Manukau.
• March 4: Pukekohe Raceway (harness racing), day meeting.
• March 5: Ellerslie: $500,000 Barfoot & Thompson Auckland Cup, $70,000 McKee Family Sunline Vase; $70,000 Westbury Classic.
• March 6: Manukau: Auckland greyhound Cup and Railway Sprint.
• March 7: Alexandra Park: $250,000 Auckland Trotting Cup, $250,000 Woodlands Northern Derby; $100,000 Breckon Farms Young Guns Final, $80,000 Gotta Go Cullen Young Guns Final (fillies).
• March 8: Ellerslie: $200,000 Haunui Farm Diamond Stakes, $200,000 New Zealand Stakes; Whips n Spurs Party.
WIN: Go into the draw to win some fabulous fashion competitions at the Auckland Cup Week.