Posted: May. 8th, 2013 | Comments 0 | Make a Comment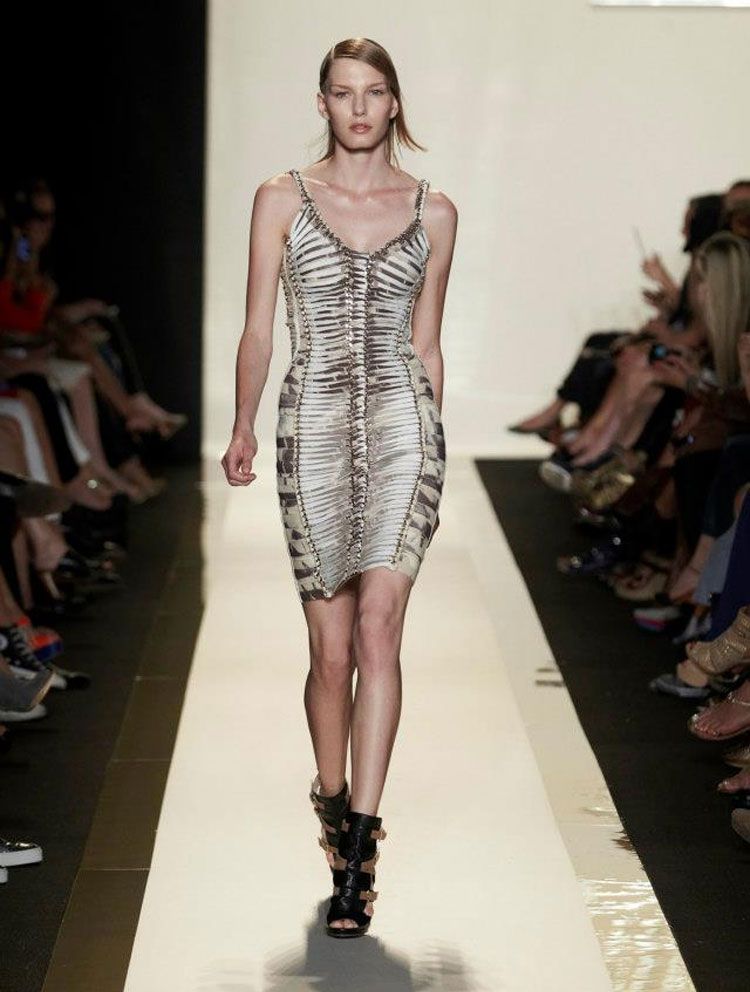 Photos Courtesy of Hervé Léger by Max Azria
If there's anyone that knows how to do a bandage dress, it's the team at Hervé Léger by Max Azria. Whether or not the brand invented the style is debatable, but one thing we can say with confidence is that Hervé Léger by Max Azria finds a way to prove season after season that there are infinite ways to strut the body-con style. For Spring 2013, it's with patchwork-inspired designs that add a fresh complexity to a classic silhouette.
Inspired by the women of Gee's Bend, Alabama, who have developed a distinct style of traditional patchworking over the last 200 years, designer Lubov Azria's latest collection is made up of geometric patterns and appliqué details. While much of the line is made up of a palette of whisper whites, nutmeg and pale greys, flashes of steel blue and shiny accessories create a refreshing offset. Congruent shapes, shattered lines, and strategic colorblocking result in a kaleidoscope effect that adds dimension to this collection, resulting in a handful of cocktail dresses done in a way we've never seen before.
But while a number of these pieces seem like they'd be out of place anywhere outside of a club downtown, as always, Hervé Léger gives us a range of textured frills. Some versions come flared at the hemline while others include cut-out leather harnesses around the waist or bodice. Between elaborate embroidery and fishnet overlay, nearly all of the pieces include texture in one form or another.
And just to keep the audience guessing, Azria proves her range by way of sexy bathing suits that feature intricate chain weaving, fringe, and the ever-present fishnet. With a high neckline, cap sleeves, and more feminine embroidery, she even manages to make a jumpsuit look elegant.
You might like :

Best Fashion Designers
Related Topics : Fashion Designers, Luxury Brands, Women Fashion, Dresses, Fashion News
Read article here: