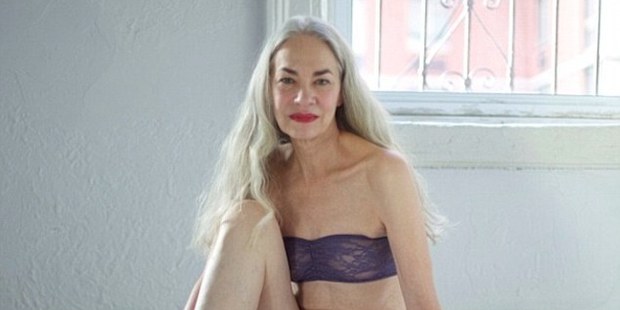 Jacky O'Shaughnessy models American Apparel underwear. Photo / Facebook, American Apparel
American Apparel has used a 62-year-old model to show off its lingerie designs.
Jacky O'Shaughnessy, a New York City native, is shown in promotion images wearing a bandeau bra and high-waist underwear made of see-through lace.
The image, which American Apparel posted to its Facebook and Instagram accounts today, is accompanied by the tagline 'Sexy has no expiration date.'
It has gathered more than 1,000 'likes' on Facebook, and more than 8,000 on Instagram.
Read more: The 83-year-old supermodel.
Ms O'Shaughnessy, who is single, has modelled for American Apparel before.
In 2012 she starred in images for the brand's aptly-named 'Advanced Basics' campaign.
At the time, she told Fashionista of the experience: "I've read so many times that modeling is vapid at best. I found it to be engaging and creative. It requires energy and an ability to communicate without words."
She also revealed that she was attempting to revive her acting career.
While today's image of Ms O'Shaughnessy had not previously been released, it does appear to be an outtake from one of her 'Advanced Basics' shoots.
The photo's background, as well as Ms O'Shaughnessy's makeup, appears exactly the same.
Regardless, dressing a 62-year-old in lingerie (albeit a gorgeous one) is quite a statement for American Apparel to make.
- DAILY MAIL