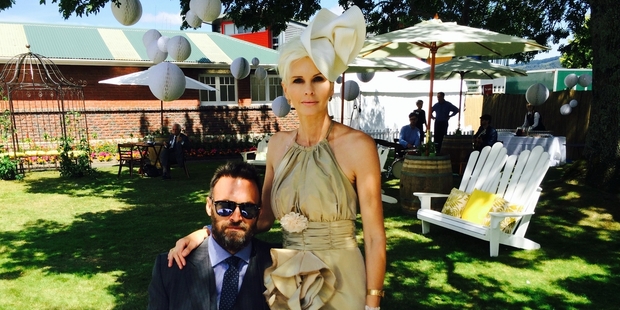 New Zealand model Kylie Bax and her husband, Spyros Poros, are trying to make owning shares in a horse more fun.
Owning shares in a racehorse can cost just $10 a week, provide some heart-stopping moments and involve year-round social events.
Racing syndicates, which own shares in racehorses, are out to change old-fashioned customs and attract new punters to the industry.
This year's Auckland Cup carnival, which begins on Friday, is a chance for the industry to harness new fans, and it is coming up with novel ways to do so.
New Zealand Thoroughbred Racing ambassador and Kiwi model Kylie Bax is among those putting a modern twist on age-old horse racing with her and husband Spyridon Poros' new venture, Hermes Syndications.
"New Zealand was rugby, racing and beer and I think we need to bring that back, but racing needs an upgrade and there are many, many ideas Spyros and I can bring from overseas," she said.
One was a novel approach to syndication with events like champagne breakfasts and stud tours.
"We'll hold different events for all our shareholders and owners so they can be part of their horse, get to know their horse and form a bond," she said.
Matamata husband and wife team Graeme and Rochelle Richardson, of Richardson Racing, have founded His and Hers, a syndicate that pitches men against women. The duo are selling 1 per cent shares in two horses - one for women and one for men. The horses were purchased at Karaka last month with an investment of $161 for women and $172 for men, with on-going costs of $40.25 a month.
"It's a bit of fun, a bit of banter," said Mr Richardson. "There are a lot of people out there that love the game that have never been able to afford a horse before."
Gone were the days of ownership meaning just getting a bill in the mail, he said. "That's old-school stuff, it can't happen any more. In this day and age there is no excuse for a trainer to not let people know."
Owners receive emails, social media updates and videos of their horse's progress from the Richardsons and will be able to enter a competition to name their animals, too.
Albert Bosma has headed his Go Racing syndicate for 10 years and has wins under his hat including the Karaka Million last year. This year, his horses will be present across much of the Auckland Cup carnival.
"It's about making sure the horse is fast - it's not much fun if your horse is running around back of the field all the time - but it's also about looking after people.
"If people have a good experience they will reinvest and they will bring other people along with them."
How they work
* Racing syndicates pay for shares or lease shares in racehorses, but typically have no role in the day-to-day training and upkeep of the animal.
* Syndicates reap the financial benefits of horse races and participate in racing events.