Danielle Wright discovers ways to showcase the city to visitors for a week of high-fashion and fine food, bar-hopping and betting.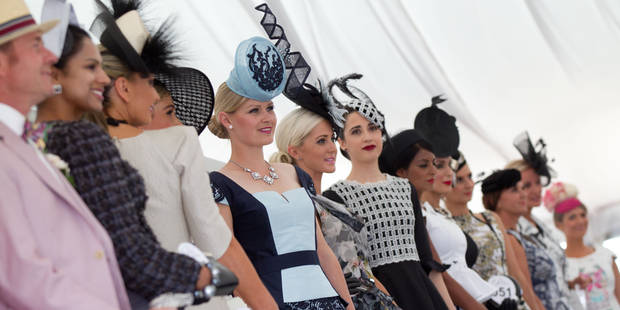 Prix de Fashion at Derby Day at Ellerslie. Photo / Richard Robinson
Saturday, March 1 - TV3 Derby Day at Ellerslie
Channel Audrey Hepburn's Ascot scene in My Fair Lady and dress up in traditional black and white for Derby Day, a historic event for 3-year-old horses featuring traditions dating back 230 years. The first Derby was raced in May 1875 and, because you're only 3 years old once, there's just a single chance for each horse to add its name to the honour roll of Derby champions that includes Bonecrusher and Kindergarten. Compete off the racecourse at the Fashions in the Field final, Prix de Fashion, set indoors in the Guineas Room, or take the kids along for free pony rides and bouncy castles at the Picnics and Ponies family area. Gates open at 10.30am and first race approx. 12.45pm.
Sunday, March 2 - Bruce Springsteen at Mt Smart
Named after Lt Henry Dalton Smart, who commanded the mounted police when they were just a handful of soldiers with 11 horses, the Mt Smart Stadium is home to Bruce Springsteen and the E Street Band for two nights (March 1 and March 2).
It's Springsteen's first show in New Zealand for more than a decade.
He may be 64, but reviews of his recent Australian shows suggest he's still young at heart and has plenty of thrills left for fans (ticketmaster.co.nz). If you are in town for a Bruce Springsteen concert, head along to Ellerslie on March 1, show your concert ticket at the gate and receive free general admission for TV3 Derby Day 2014.
Monday, March 3 - Shopping for Race Day
Diane Stephenson, owner of Modes of Broadway, has been dressing women for the Auckland Cup Week for 30 years. "This year there are two looks," she says. "There's vintage/opshop style and classic chic with beautiful fabrics, so we have the two extremes."
She says dresses are short and there won't be maxi dresses or pant suits during Auckland Cup Week. The "hatinator" (a cross between a hat and a fascinator) is still popular. "There's more colour this year and women have finally moved on from matching their hat, bag and shoes - they're treating their bag as a piece of jewellery," says Stephenson, who admits she would rather pat the horses than bet on them. "Many dresses feature capped sleeves so there's less need for jackets."
Other retailers specialising in racewear include Natalie Chan, who offers a complete package from dresses to accessories and tips specific to the Auckland Cup Week events; Alannah Hill, who also offers complete raceday outfits and Adrienne Winkelmann, well-known for racewear for the older, high-end dresser. Claire Hahn, a previous Prix de Fashion winner and Ellerslie head judge, is enjoying her first season as a milliner.
For the gentlemen, Lorinda Kearney from Nicholas Jermyn says customers are opting for bright colours. "Our rainbow stripes and checks are being partnered with coloured bow ties." She advises men to go bold and not to be afraid to wear colour.
Tuesday, March 4 - Off the Rails and Cup Eve Cocktail Party
Join Greg Radley and Malcolm Johnston, hosts of Sky Racing's Off The Rails programme, for lunch and be part of the live audience. Individual tickets are $100, including a drink on arrival, a gourmet buffet lunch and entertainment.
Later, head to the Westbury Stud in Papakura for a Cup Eve Cocktail Party from 4pm-7.30pm. There will be live music, spot prizes and goody bags. Leading jockeys and trainers will be on hand to let you into their world and offer tips.
Wednesday, March 5 - Barfoot & Thompson Auckland Cup Day
Take a half-day off work and watch horses of any age racing the 3200m feature race in an event dating back to 1874. Look out for the Auckland Cup, a silver trophy commissioned by Queen Victoria. Gates open 11am and first race approximately 12.45pm.
Thursday, March 6 - Spa and Studs
Take a break at the So Spa (part of the Sofitel Hotel) to relax and rejuvenate. Visitors to New Zealand will enjoy the Greenstone Massage, Healing Manuka Honey Facial or Ataahua Beautiful Body Treatment. The signature treatments are available for couples and Champagne is served at the end. Bookings can be made on (09) 354 7440.
Afterwards, take a drive to South Auckland and visit the Huanui Farm.
"We're a thoroughbred stud farm and the property is a showpiece, like many stud farms," says Huanui's Shannon Taylor.
"Come and learn about how the horses are bred and reared. We'll take you through every part in the process."
Visitors are welcome by appointment and private tours take half an hour.
Taylor's tips for choosing a horse to bet on are to look for one that's "nice and relaxed, has a good coat and doesn't have too much nervous energy".
Friday, March 7 - Re-fuel at Euro
Simon Gault's Euro Bar and Restaurant has a history of being frequented by race-goers and winners throughout the season, as well as a tradition of hosting Melbourne Cup events so you're bound to eavesdrop a few hot betting tips.
Saturday, March 8 - Diamond Day at Ellerslie
Following in the tradition of Ladies' Days across the globe, Ellerslie's Diamond Day is filled with fashion competitions, as well as the Contiki Whips 'n' Spurs summer party. Gates open 11am and first race approximately 12.45pm.
Further details: See ellerslie.co.nz.