Home >

LifeStyle >

Leisure >

Avoid the Mega Crowds With These 9 Eclectic Early Summer Music Festivals
Apr. 16th, 2014 | Comments 0 | Make a Comment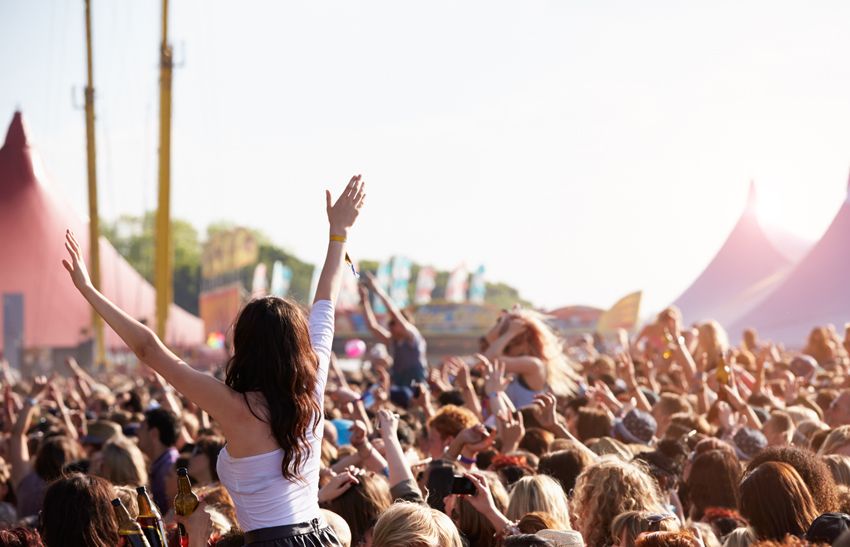 Photo Credit: Monkey Business Images/Shutterstock
Sunshine, picnic blankets, girls in flowing dresses, hula-hoops…they all mean that music festival season has officially begun. The first weekend of Coachella has wrapped up (with the second weekend coming up quick), but there are so many other options out there, whether you are a Philharmonic fan or an indie rocker. If you're not a fan of big crowds, you may want to stay away from the mega-festivals (sorry, Coachella), but there are plenty of smaller eclectic festivals out there with friendly crowds and fantastic music. And we're willing to bet that some of these will be news to you!
Abbey Road on the River — Louisville
The Scene: As the biggest Beatles-inspired music festival, this event is full of fond memories of the Fab Four. The first rule of AROTR (according to the FAQ section)? "Do not worry about anything because we will solve all of your problems and answer all of your questions and make you happy when you show up. We mean it!"
The Music: Though this annual festival celebrates "the music and spirit of the Beatles," more than just Beatles cover tunes are played. The Beach Boys are actually headlining this year. But if it is the Beatles you want, there will be 250 concerts from tribute bands hailing from every corner of the world, including Norway and Japan. (May 22-26, 2014)
Photo Credit: Joe Cantrell/Waterfront Blues Festival
Mountain Rails Live — Southern Rockies, Colorado
The Scene: People seem to love the two-hour trip to Mountain Rails Live, which is not something you can say often about a festival. Come aboard the Rio Grande Scenic Railroad, travel through the Southern Rockies to Fir Mountain, which is an "all green" concert site in the high mountains. On July 4th weekend, this 13-week series goes all-out for an inaugural "Americana Music Festival." In addition to the concerts, there'll be local brews and barbecue.
The Music: Western folk, country rock and classic Americana. The Nitty Gritty Dirt Band headlines for the first time, while Juice Newton and Michael Martin Murphy are among other headliners. Fans also have the chance to meet the musicians in the club car on the trip home. (Weekends, June 14-15 through September 13-14, 2014)
Waterfront Blues Festival — Portland
The Scene: The Waterfront Blues Festival is kind of like New Orleans JazzFest meets Burning Man — only thankfully, temperatures are about 30 degrees cooler. Five days of music and a Fourth of July firework fest, Waterfront is one of the biggest and best festivals in Cascadia's green, micro-brewing heart.
The Music: Headliners for 2014 include Boz Scaggs, Los Lobos and Gregg Allman. Blues greats include Maceo Parker, Lee Fields and the Expressions, John Nemeth and the Bokeys, and a host of others. Also, expect a little zydeco, a little rockabilly, and perhaps a marching band or two. (July 3-6, 2014)
Photo Courtesy of Aspen Music Festival and School
Aspen Music Festival and School — Aspen
The Scene: Since 1949, this has been one of the country's preeminent classical music events. Tens of thousands of attendees mingle with classical music's greats, and more than 600 promising music students are cherry-picked from around the world. About 300 live performances over eight weeks transform this mountain town and draw in an altogether different crowd than the Hollywood ski-bro norm.
The Music: The theme of this year's Aspen Music Festival is "The New Romantics," and the music director is Robert Spano — now in his third year. The storied Tony Bennett himself will appear June 28, and Rufus Wainwright will perform for one night only. The operas this year are "Carmen," "Eugene Onegin," and "The Picture of Dorian Gray." (June 26-August 17, 2014)
BottleRock — Napa Valley
The Scene: After an huge start last year, BottleRock has settled down a bit, with a mellower lineup, seasoned promoters taking over, and — if locals get their wish — an atmosphere suited to Northern California's wine country vibe. Speaking of wine country, at least 10 great producers will be pouring, and there will be a "restaurant garden" as well as a food truck area.
The Music: Outkast, The Cure, Eric Church, Weezer, TV on the Radio, LL Cool J with Z-Trip, The Fray, Matt and Kim, Heart, Deer Hunter, and about a dozen hit-makers of the Nineties. Supporting acts range stylistically from Irish bluegrass to experimental LA rock to accordion. (May 30-June 1, 2014)
Photo Credit: Phil Brennan/NXNE
NXNE (North by Northeast) — Toronto
The Scene: For all the people who sigh that SXSW is too much of a scene and isn't about bands anymore, you should try the Canadian version. Now in its 20th year, it's no small scene either, North by Northeast still brings in a solid line-up of under-the-radar and breaking artists — in addition to a couple chart-toppers. And it has also grown to have film, interactive and art components.
The Music: St. Vincent, and Spoon and Spiritualized are among the headliners this year. The rest of the lineup is split between artists known in Canada (but not yet globally, like Mac DeMarco and Tim Hecker) and buzz bands like Danny Brown (Detroit rap) and tUnE-yArDs (low-fi experimental pop). (Dates: June 13-22, 2014)
Rochester Lilac Festival — Rochester
The Scene: People in Western New York know it's truly spring when Rochester's lilacs are in full-blooming glory. Rochester's nickname is The Flower City and at this festival, they're the center of attention. Other program highlights include a music fest, fun run, parade, art fair, and Big Rib BBQ & Blues Fest (a festival-within-a-festival).
The Music: Eddie Money, Rusted Root, the Original Wailers and the Skycoasters are among those to headline a night of the eight-day festival. Big Rib recently announced headliners Robert Randolph & the Family Band, the James Hunter Six, and Naomi Shelton & the Gospel Queens. (May 9-18, 2014)
Photo Courtesy of Mid-City Bayou Boogaloo
Sweetgrass Music Festival — Charleston
The Scene: Only in its second year, this Charleston festival is one to hit if you like authentic bluegrass, a casual family-friendly vibe, and a relaxed stage where musicians can try out new band line-ups and interact with the attendees. The Sweetgrass Music Festival's location, across from Charleston Harbor, promises gorgeous sunsets and breezy temperatures.
The Music: Headliners include Lonesome River Band, Nothin' Fancy, and IIIrd Tyme Out (fronted by Russell More, five-time International Bluegrass Music Association Male Vocalist of the Year). A free mandolin workshop will be led by Grammy nominee Alan Bibey on Saturday. (May 2-3, 2014)
Mid-City Bayou Boogaloo — New Orleans
The Scene: This free festival on the Bayou St. John has three stages, an artists' market, and awesome street-fair food. Special events include a bicycle pub crawl and "rubber ducky derby." One stage is just for kid's entertainment, while the others feature a lot of local bands. This annual event started nine years ago as a Hurricane Katrina fundraiser and continues to be all about supporting community, heritage, and art.
The Music: The Mid-City Bayou Boogaloo is full of Zydeco, hip-hop/soul, funk, jazz fusion, and more music made for dancing. (May 16-18, 2014)


Source: