| Home > LifeStyle > Leisure > Be the Envy of the Green With These High-End Golf Accessories | |
| --- | --- |
Posted: Apr. 25th, 2013 | Comments 0 | Make a Comment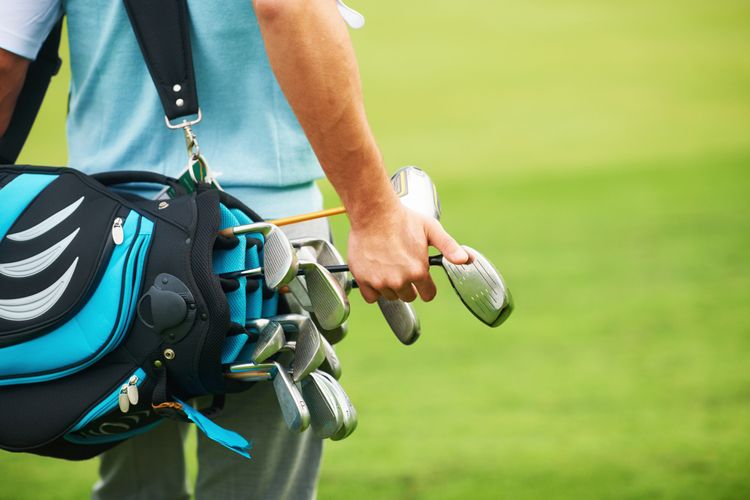 Photo Courtesy of Yuri Arcurs | Shutterstock
With so many golf competitions out there, especially the highly-respected
Masters
, there's a lot of attention being placed on a good golf game — but it isn't just about how well you play. As a sport of distinction, there's also emphasis placed on how stylish one might be on the green, from what you wear to what type of bag you use.
While it's open to anyone, it is definitely a sport for the wealthy, with people spending thousands on luxury accessories that will set them apart from their buddies. With these eye-catching items you'll certainly stand out from the crowd and perhaps even gain some admirers (or haters) on the green.
Photo Courtesy of Louis Vuitton
Louis Vuitton Golf Bag
Luxury brand Louis Vuitton may be best known for their handbags but did you know they also offer a $12,500 golf bag? While it may look sleek and minimal, the brand promises that there's more than enough room for a full set of clubs within its six interior pockets. It also has many different compartments that can hold clothes, balls, towels, and even an umbrella. The canvas is monogrammed with their recognizable logo and features a cowhide trim. The Louis Vuitton golf bag has large studs on the bottom to protect the leather from the ground and comes with a removable cover and a wide opening zip. A personalized leather tag is also included, allowing you to choose the color of your initials and how they are arranged on the tag.
Photo Courtesy of Alfred Dunhill
Alfred Dunhill Golf Accessories Set
This Dunhill Accessories Set is made up of two ball markers and a great multitasking tool that can be used as a pitch repairer, a cleaner for your clubs, and a golf shoe stud spanner. Made from stainless steel with brushed gunmetal hardware, each is stamped with the AD logo and comes in a black leather case. While it may not be the most luxurious on the list at $135, it would definitely make for a nifty little tool your golfing buddies probably won't have.
Photo Courtesy of Ferrari
Ferrari Golf Bag
Not to be outshined by fashion brands, Ferrari took a little detour from their line of automobiles to release a golf collection with Cobra Puma Golf. Included in the selection are golf, duffel, and footwear bags, gloves, belts, shoes (which we show below), jackets, sweaters, and of course, drivers. Of the options we love the exclusive Luxury Golf Bag, which retails for $2,400. Featuring an attractive minimalistic design, the bag is made of Poltrona Frau Leather (the same leather Ferrari uses in their GT cars) and has padded side pockets with the brand's signature seat stitch detailing, as well as three extra pockets and metal Ferrari horse appliqués.
Photo Courtesy of Ping
Ping Hoofer Golf Bag
Ping's lightweight Hoofer bag promises an even weight distribution on your shoulders so you won't find yourself with back pain by the end of the day. It also features dual adjustable straps, making it easier to carry it like a backpack and take it on and off. The five-way mesh-covered top is made to be super durable, protecting the eight pockets within — including a water-resistant, velour-lined one for your valuables, and ones to hold a water bottle and range finder. The Hoofer Golf Bag retails for around $189.99, making it one of the more affordable accessories on this list but considering Ping is so widely respected for their clubs, we still think it's impressive.
Photo Courtesy of Ferrari
Ferrari Golf Leather Shoe
If you want a pair of golf shoes to match your Ferrari golf bag you definitely need to get yourself these leather footwear offerings from Ferrari. Designed to guarantee maximum comfort when on the green, this footwear is handmade in Italy and sports S2Quill Spikes to keep you treading with ease. To make sure everyone knows what you're wearing, the familiar Ferrari horse logo is found embossed on the heel of the full-grain leather shoe, which is given a waterproofing treatment so wet grass is never a problem. The golf shoe comes in your choice of white or black and retails for € 480 (around $627).
You might like :

It's Eco-Friendly Month But NYC is Green Year-Round
Related Topics : Golf, Luxury Brands, Lifestyle News

Taken from: