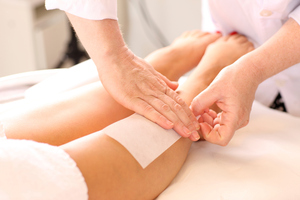 Should larger women be charged more for a leg wax? Photo / Thinkstock
A London beauty salon has slapped curvier customers with a so-called "fat tax," saying they use up more materials.
MM Bubbles - a salon in South Kensington offering manicures, pedicures, waxing and body wraps - has started charging women from size 12 upwards a fee of £5 (NZ$10) for a 45-minute leg wax. Women that are a size 18 and over are being asked for £10 (NZ$20) pound more.
An undercover customer was sent to the salon by The Sun newspaper. The size 22 to 24 women was reportedly told by beauty staff, "I know maybe for you it is not very nice but I use more stuff".
The idea of a "fat tax" isn't new - airlines have been debating higher fees for heavier passengers for some time, suggesting the additional cargo means more fuel and CO2 emissions.
Earlier this year Samoa Air proposed charging passengers by weight.
A NZ Herald online poll with more than 17,700 votes revealed the majority of people supported this concept.
There's also plenty of talk about imposing a "fat tax" on fast food to try to tackle a growing obesity problem.
- www.nzherald.co.nz