Posted: Sep. 3rd, 2013 | Comments 0 | Make a Comment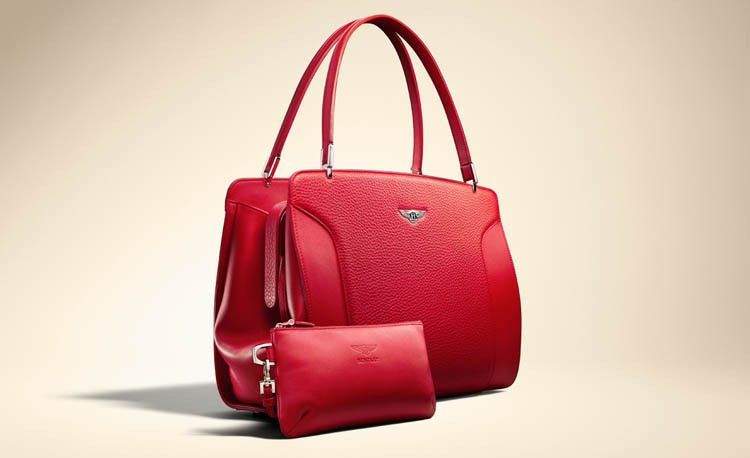 Photos Courtesy of Bentley
Bentley Motors employs some of the most skilled leather craftsmen in the world. They're tasked with furnishing the interiors of the company's famously luxurious sedans, coupes and convertibles, but have proven themselves capable of extending beyond the automotive sphere once again with the launch of the Bentley Handbag Collection.
The limited-edition collection centers around two models: the Barnato, named after former Bentley chairman Woolf Barnato's daughter Diana (an accomplished aviatrix who was, incidentally, the first British woman to break the sound barrier), and the Continental, named for one of Bentley's most iconic nameplates that stretches back from 1952 to today.
"Just as the Bentley Boys are our historical racing heroes, and an iconic part of the brand, today there is an emerging culture of confident and successful women, 'Bentley Girls', with the same adventurous spirit," said Dr. Ariane Reinhardt, Bentley's HR chief who spearheaded the project. "We are creating this luxurious and stylish handbag series to appeal exclusively to these modern women."
Each is available in four colorways and is crafted from the finest leather, styled to evoke the shapes found in Bentley automobiles and trimmed with the same kind of knurled metal accents you'd find on a Bentley's dashboard. The inside of the bag is fully lined in leather as well, with multiple compartments including a waterproof pouch to keep your smartphone safe in inclement English weather.
"With the actual design of the handbags we wanted to create a strong link with some of the key features on our cars," says Bentley product design chief Daniele Ceccomori. "Starting with the exterior profile and volume, we have drawn inspiration from the iconic shape present on the rear aspect of the boot lid of the car; the split side panels echo the wing-shaped buttresses of the interior dashboard and help to enhance dynamism and elegance, allowing to play with different material and color finishes, a classic Bentley bespoke feature."
The bags have been crafted in collaboration with Vincent du Sartel and were launched in August at the Pebble Beach Concours d'Elegance. They'll be available in strictly limited quantities starting in October, with just 160 examples to be sold worldwide before the range expands in 2014.
Prices start at $5,500 for the Continental and $7,000 for the Barnato.
You might like :

Missoni's New Bags Make a Monochromatic Shift From Their Signature Style
Related Topics : Women Fashion, Handbags, Accessories, Fashion News
Visit site –