Home >

Fashion >

Chatter >

Best of the Red Carpet: Our Favorite Looks from the 2014 SAG Awards
Jan. 21st, 2014 | Comments 0 | Make a Comment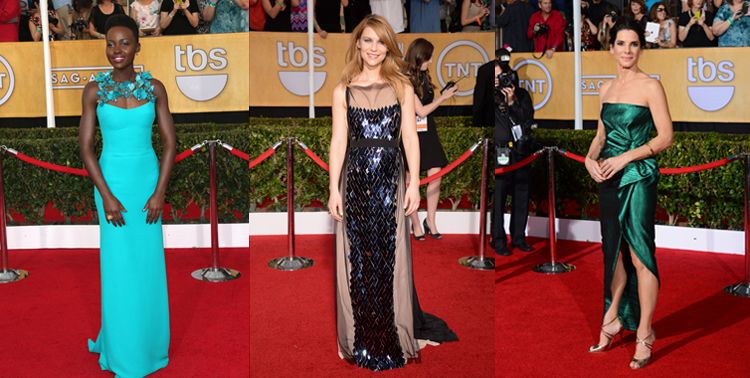 Oh, awards season. You creep in like a fog while we're all still exhausted from the holidays, giving us our favorite stars in all their A-list-status glory. Sure, we just saw them all gussied up a few nights ago, but do we want to see it again? Absoutely. While the wins were mostly predictable, the fashion was definitely not. Ditching the dramatic red tones, the Screen Actors Guild Awards were all about jewel colors—glittering greens, bold blue and citrine yellows—making even that rich, red carpet pale in comparison. The ladies seriously upped their game since the last award show, and we can't wait to see what they wear next.
Photo Courtesy of Lovegold
Gravity star Sandra Bullock has been looking nothing but beautiful during this awards season, but we're not sure anything could beat this shimmery, emerald-green Lanvin dress. Worn with Fred Leighton jewelry, an antique yellow gold coiled snake bracelet with emerald drop, and Jimmy Choo shoes with a Roger Vivier clutch.
Photo Courtesy of Lovegold
Lupita Nyong'o has been gathering some serious attention lately. With all her wins and nominations for her role in 12 Years a Slave the actress has gone from zero to 60 in less time than it took her to walk this red carpet. Wearing a turquoise, floral Gucci gown, the actress was glittering from head to toe in Fred Leighton jewelry, including antique yellow gold and citrine earrings and a 1950's yellow gold flower bouquet ring with rubies, sapphires, emeralds and diamonds.
Photo Courtesy of Forevermark Diamonds
Claire Danes amped up the sex appeal with smoky eye shadow and makeup that made her eyes seriously pop. We love a gorgeous nude face, but seeing the actress step out of her comfort zone and into some va-va-voom left us speechless. She wore a sheer Vionnet gown with Forevermark Diamonds jewelry that included an 12.10ct Asscher ring and round brilliant motif diamond studs set both in 18k yellow gold.
Photo Courtesy of Forevermark Diamonds
Winning a SAG award for Outstanding Performance by an Female Actor in Comedy, Julie Louis-Dreyfus looked stunning hitting the red carpet this weekend. She wore a dual-tone, blue Monique Lhuillier dress, Christian Louboutin shoes and bag, and Forevermark Diamonds jewelry including Maria Canale diamond tassel earrings set in 18k White Gold and a 10.50ct Asscher ring set in platinum.
Photo Courtesy of Forevermark Diamonds
No longer is Abigail Breslin that scrappy kid from Little Miss Sunshine; she's all grown up and hitting those red carpets with the glamour of a vet. Her transformation from awkward kid to Hollywood starlet is one of our favorites. She wore a Chagoury gown, Giuseppe Zanotti shoes, Edie Parker clutch, and Forevermark Diamonds jewelry including a Jade Trau Diamond by the Yard necklace set in 18k yellow gold, a diamond ring set in 18k rose gold, a tassel necklace set and diamond studs set both in 18k yellow gold.
Photo Courtesy of Basil Soda
E!'s television personality Giuliana Rancic, showed up on the red-carpet to schmooze with the stars and got to hear everything from Sandra Bullock's post-show Taco Bell craving to Jennifer Lawrence's rant about "armpit vagina"—luckily the T.V. host took it all with a grain of salt. She wore a plum Basil Soda gown.
Photo Courtesy of Lovegold
Sticking with the current trend of red for this award show, Elisabeth Moss opted for a more traditional and lady-like gown than her Golden Globes dress. It's much more simple, but we can't help but love it. She wore a Michael Kors dress, vintage Neil Lane Jewelry including a bangle bracelet, spiral earrings, and a navette ring all in diamonds and gold, as well as a Jimmy Choo clutch, and Jerome Rousseau shoes.
Photo Courtesy of Lovegold
One of the most gorgeous surprises was from Downton Abbey's nominee Michelle Dockery, who wore a black and white gown with a plunging neckline. Risky move, but it totally paid off! She wore a J. Mendel dress, David Yurman yellow gold and diamond earrings and ring, Gianvito Rossi shoes, and a Calvin Klein clutch.

Link: