R&B superstar Beyonce has snapped up two pairs of shoes from a Kiwi designer to take back as a souvenir from her New Zealand concerts.
The Crazy In Love singer showed off the purchase - matching loafers for herself and daughter Blue Ivy - on her Instagram account this morning.
The black-and-white patent shoes are from New Zealand designer Kathryn Wilson's upcoming Winter 2014 collection, with 21-month-old Blue's little lace-up versions from the Little Miss Wilson range.
Ms Wilson posted a copy of the photograph onto her own Twitter and Instagram accounts saying it was a "career highlight".
Ms Wilson said she was "so excited" that Beyonce had bought two pairs of her shoes, saying the singer was her "absolute idol".
"It's kind of like the Queen, it couldn't have been anyone bigger in the world," she said.
The ecstatic designer said she had always modelled her range with the former Destiny's Child singer in mind, as an epitome of a strong, successful business woman.
"It's such an awesome thing because we also look to her as a woman in business, in terms of instilling confidence in women, telling them, 'you can do anything'," Ms Wilson said, speaking from Rarotonga where she is on holiday with her mother and sister.
"She's always been an icon in the back of my mind which we build the brand on. Beyonce is a strong, successful woman, encouraging other women to do the same."
Ms Wilson said she "could only hope" the exposure generated by the singer's more than 7 million followers on Instagram would result in more interest and sales in her shoes. However, she was simply happy that Beyonce owns a pair.
"Just knowing that she has heard of the brand is enough for me,"she said.
"It makes me want to keep going, all those hard days feel worthwhile when there's a fun day in there."
She said it was "special" that the singer had chosen a pair of her shoes to take home as a reminder of her trip to New Zealand.
Ms Wilson said she first heard the news when her fiancee rang her at 5.30am today after seeing the photo on Beyonce's Instagram account.
She confessed to having "a little dance" after finding out.
Beyonce's shoes, from the Winter 2014 collection, retail at around $299, while Blue Ivy's Little Miss Wilson shoes sell for $99.
Ms Wilson, who has been a shoe designer for 10 years, recently opened her first store in Auckland's Britomart.
It is not yet known whether Beyonce went into the store to buy them herself.
The chart-topper - known as Queen Bey to her fans - was in Auckland for four sell-out shows at Vector Arena last week.
During her stay in the city she also leapt off the SkyTower, after surprising staff when she showed up at the SkyJump on Saturday. She enjoyed jumping 192m so much she did it twice.
The star told fans at Saturday night's concert that the experience was "awesome".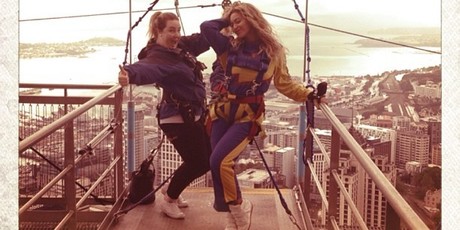 - APNZ
By Patrice Dougan

Email

Patrice