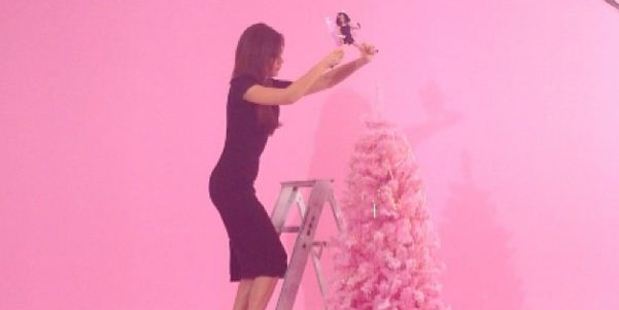 Victoria Beckham doesn't sacrifice fashion for safety at Christmas. Photo / Instagram
She's known for her love of vertiginous heels, rarely being seen without a pair.
And it appears Victoria Beckham is so enamoured with her designer pumps, she can't even be parted from them even when climbing a ladder.
The fashion designer was, perhaps unwisely, seen tottering on a stepladder in a pair of five-inch heels which decorating a Christmas tree.
Wearing a black pencil dress and heels, the mother-of-four mounted a ladder to place what appeared to be a Posh Spice doll on the top of the tree.
Surrounded by a pink backdrop, it looked like Victoria was on set of a photography shoot, rather than in her own home.
Posting a photo of her breaking health and safety rules on her Instagram, Victoria wrote: "Christmas can be dangerous fashion bunnies! #VBXMAS x vb."
Victoria is currently preparing for her second Christmas in West London after the family moved back to the UK just before the festive period last year after several years in Los Angeles.
Meanwhile, Victoria has set the record straight once and for all that she isn't interested in another Spice Girls reunion, despite ex-bandmate Melanie Brown's frequent hints it is still a possibility.
She told Vogue Paris: "I realised it was finished for good in 2008, when we reformed for our reunion tour.
"It should have been the best moment of my life, but I just wanted to be elsewhere.
"It wasn't a lack of respect for the girls or the audience, but the passion just wasn't there. By contrast, in my new career, the passion grows every year. I still want more."
Their Return Of The Spice Girls world tour in 2008 was a sell-out, however it ended prematurely after they cancelled the gigs in South America, South Africa and Asia, citing "personal and family commitments'".
- DAILY MAIL