| Home > LifeStyle > Leisure > Ciclotte's Unicycle Design Aims to Redefine the Luxury Exercise Bike | |
| --- | --- |
Posted: Jul. 25th, 2013 | Comments 0 | Make a Comment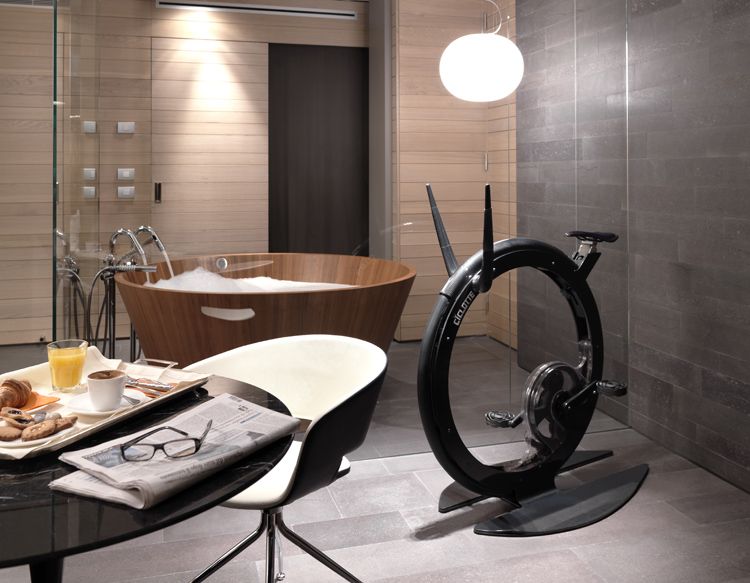 Photos Credit: Ezio Manciucca and Luca Schieppati
There always seems to be a new fitness fad coming out on the market, whether it be in the form of a crazy diet or a piece of oversized exercise equipment you don't know how to use. Let's be honest, if you're anything like me, neither one lasts very long — that's why it's a
fad
. On those rare days I do decide to get active though, I prefer stationary bikes. If your image of a stationary bike is that of a full-sized bicycle, ugly and bulky, you're a little outdated. Designed and crafted in Italy, Ciclotte's luxury exercise bike models combine function and esthetic to create something sleek and subtle, sure to fit in any room of the house.
With designer Luca Schieppati at the helm, Ciclotte arose from the desire to create a design that blends seamlessly with a contemporary living space "where work and relaxation, exercise and entertainment share the same dimension." Hoping to become the "must-have" luxury fitness bike, Ciclotte boasts a different silhouette than what fitness buffs are used to — most notably being the singular unicycle-like wheel and the two horns.
The bike features a "dual satellite epicycloid transmission system," which apparently uses four flywheel rotations to every pedal rotation to make a "high intensity magnetic field." What does all of that mean? It basically means that the level of resistance is maximized to give you the best workout possible.
The adjustable seat is made of carbon and alcantara padding and the handlebars (also made of carbon) feature a horn design that can be shifted upwards and downwards for various posture positions. The bikes have a touch screen display that is found on the side of the wheelbase. Inspired by home automation systems, the company promises the display makes programming the 12 levels easy and quick.
Ciclotte comes in three different models: Carbon Fiber, Steel, and Lamborghini Special Edition. The Carbon Fiber model (€8,300; around $10,979) comes in either black, silver, or purple, while the Steel bike (€7,400; around $9,788) is available in white, red or grey. Priced at €10,100 ($13,360), the "Tonino Lamborghini Ciclotte" is an exclusive edition dedicated to the famous luxury auto brand. Designed in full carbon black fiber, the bike features the recognizable Lamborghini logo and red accent stripes.
The Carbon and Steel bikes are available in a Marine version (an additional €1,500; or $1,984). Made with components that are resistant to sea salt, the Marine set-up option would be great on yachts, ships, coastal areas and for long term outdoor use.
Each bike is available to purchase through the Ciclotte online store, which also sells an iPad/iPhone mountable holder and optional seats.
You might like :

Zuri Bamboo Bikes are Cool, Sustainable and Create Jobs in Africa
Related Topics : Bicycles, Luxury Toys, Technology, Health And Wellness, Lifestyle News

Originally from –