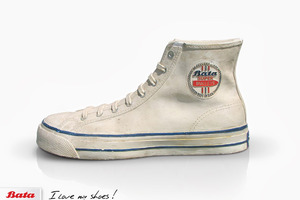 New Zealand's answer to Converse Allstars basketball boots - the Bata Bullet - is back.
According to Wellington-based manufacturer, Bata New Zealand, the rebooting of the flat-bottomed lace-up sandshoe of yesteryear is the product of demand from youth, apparently yearning for a past they never had since the last time a new Bata Bullet hit the street was about 27 years ago.
Some 10 million pairs were produced in their 1970's heyday and Bata Operations manager Tony Harmer says the relaunch is occurring "because everywhere we go we are being asked to bring them back."
"Young people today are very much into the retro look," and there had been an overwhelming response on Facebook to a Bring Back Bata Bullets page, which currently boasts 1,886 "likes", although many comments are from nostalgic past wearers.
The shoes are selling for $50 a pair from Para Rubber stores, comparing favourably with $99 for a pair of low-cut Converse sneakers, advertised on Trade Me.
At first, Bata will be keeping it real with just white, navy, black, all black and grey. None of your Converse greens, yellows and reds here, but "other styles and colours may follow, depending on how successful the first sales are."
Thankfully, for those with long memories, the new Bata Bullets will be like the BMW Mini, a step up from its less technologically sophisticated and uncomfortable predecessor.
They will be made out of rubber instead of PVC and will have better durability, slip resistance and more comfortable inner soles, the company says.