| Home > Fashion > Chatter > Congrats Kanye West & Kim Kardashian—To Celebrate We're Counting Down Our Favorite Engagement Rings! | |
| --- | --- |
Posted: Oct. 22nd, 2013 | Comments 0 | Make a Comment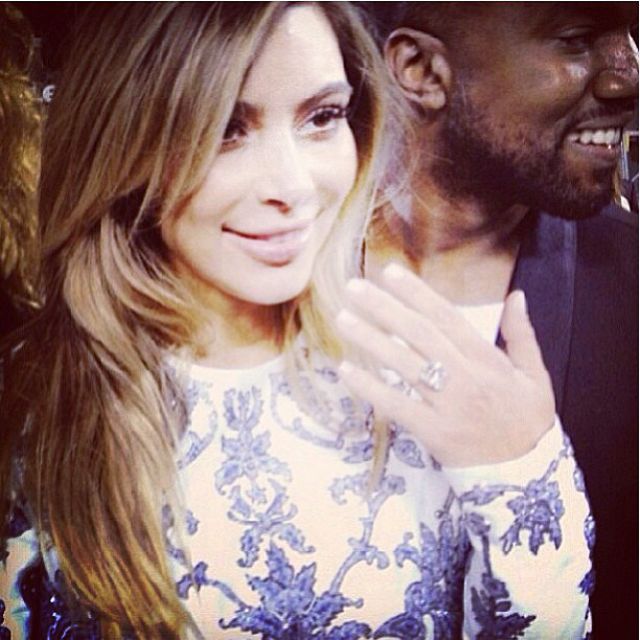 Photo Credit: Eyeonglam via Instagram
When celebrities get engaged it can feel a little–overwhelming. You get excited for the ring, the planning, the location and even explain the proposal to all who will listen—even if they've heard it already. But there's something about the extravagance, beauty and Hollywood perfection of it all that makes you feel like you're a part of the action. Now that Kanye West (finally) proposed to girlfriend and mother of his child Kim Kardashian yesterday, the whole world is having a mini freak out. The rap mogul popped the question in San Francisco's AT&T Park, which he rented out for the reality star's 33rd birthday. Surrounded by family, friends and 50-piece orchestra (because, you know, he can), he reportedly slipped a 15-carat diamond ring (probably bigger) onto her finger. And while we're positively crazy about the size of the rock, it reminds us of all those other stunning celebrity engagement rings, and we just had to break out favorite picks.
Photos Courtesy of Shutterstock
Blake Lively & Ryan Reynolds: To be quite honest, this might not be so much for the ring as for the man. Pretty much anyone who gets to marry Ryan Reynolds we're immediately jealous of. The ring is reportedly worth around $2 million, so she got one hell of a ring—and man.
Photos Courtesy of The Duke & Duchess of Cambridge
Kate Middleton & Prince William: This ring will go down in history (as will the wedding), for its sheer beauty. The 18-carat sapphire and diamond engagement ring used to belong to Prince William's mother, the late Princess Diana. "This was my way of making sure that my mother didn't miss out on today," the prince said of his engagement. Aww.
Photos Courtesy of Shutterstock
Beyonce & Jay Z: Oh, royalty. No, not Will and Kate—Bey and Jay Z. Beyonce's 18-carat stunner is almost ridiculous in size and we love it. The couple is still going strong after all these years—way to "put a ring on it" Jay Z.
Photos Courtesy of Shutterstock
Jennifer Aniston & Justin Theroux: We're not even going to mention that swirly number Brad gave Jen for their engagement. This one is so much better. And let's be honest, so is the man. Justin Theroux popped the question to Jennifer Aniston on his 41st birthday, and of course our favorite friend said yes.
Photos Courtesy of Shutterstock
Justin Timberlake & Jessica Biel: Um, this was pretty much our greatest fantasy crica 1999. We scribbled Mrs. Justin Timberlake on our high school notebooks while bopping along to N*SYNC. But now, years later, Jessica Biel snagged a six-carat vintage-inspired ring from our favorite singer. Lucky girl.
You might like :

Miley Cyrus Is Pregnant—And 5 Other Celebrity Pregnancy Rumors That Were Totally Untrue
Related Topics : Kim Kardashian, Celebrity News, Celebrities,
Excerpt from: