Posted: Sep. 19th, 2013 | Comments 0 | Make a Comment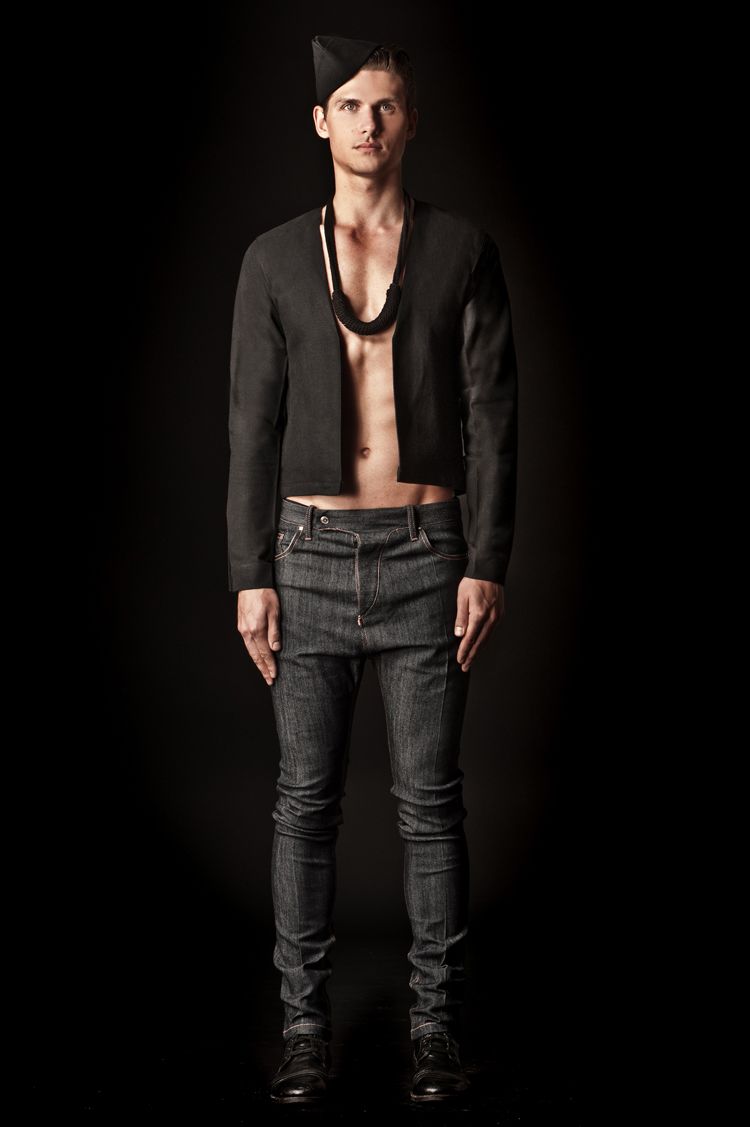 Photos Courtesy of Cotte D'Armes
Sometimes the world works in mysterious ways. For designer and founder of Cotte D'Armes, Clarence Ruth, that sentiment has never been more true. From a chance encounter at a mall in Miami to New York Fashion Week, the young designer has been making a name for himself in the industry. Talking with Ruth gave us an interesting insight into his designs, his influences and how he wants the fashion world to perceive his brand.
Born on West Point Military Base to two parents in the service, he was in love with fashion before he even understood what it was. "I've always been interested in designing, just as a young kid, I always used to design my own clothes on paper," he explained to JustLuxe. "I would sketch it out, keep portfolios, not even knowing, not really understanding what designing clothes was or what went with it." Now a New York Fashion Week designer with Cotte D'Armes locations in cities all over the world, he looks back at how everything started with a chance encounter.
Shopping one day with his older sister in his hometown of Miami, Florida, a woman approached the two young siblings to ask Ruth if he had ever considered modeling. "I was shocked. I wasn't interested at all," he laughs. His sister on the other hand, took the woman's card and brought it home to their mother, adamant that he at least give it a shot. He refused. The business card was tucked away in a drawer for months before his mother broached the subject again, telling him she felt he needed to give the woman a call. So at the urging of his mother he did—two weeks before New York Fashion Week. The agent remembered him specifically by name, and within those two weeks, booked him five runway shows. "To think back on it, it's like wow, it's just so amazing how things happen, just the timing of it. I didn't know when fashion week started or ended… and it just happened so perfectly."
During his modeling career he attended the Fashion Institute of Technology in New York and created an excellent network of friends. "I was able to meet a lot of great people…which definitely I'm still connected to now." he says. And he isn't going to take credit for getting where he is today all on his own. "In the industry I know that relationships are very important. It's almost like you can't survive unless you have great relationships with other people. It's kind of like what they say— it's who you know."
His label Cotte D'Armes was created from his love of fashion, on a deep, almost emotional level, and it's something he wants his customers to appreciate and understand. "Cotte D'Armes—the French term, means a piece of clothing or symbol that represents you or your affiliations, so I find myself as a cotte d'armes of my parents. So the collections…for the customers, can be a representative of them," he explains. "It can be their cotte d'armes of who they are and what they're trying to express. That's why I chose the name." Ruth hopes that people see a piece of themselves in his clothing—designs they can utilize as tools to represent themselves.
Ruth's men's and women's wear is basic, filled with raw denim, knits and terry cloth. But the beauty is in the details. Otherwise simple jackets, pants, and tops are all given contemporary twists. For inspiration he uses "a little bit of everything. Especially being here in New York I'm definitely spoiled by street style and a bunch of different cultures mixed together which is great, but also buildings, structures, landmarks, cracks in the sidewalk, in the streets and roads—every little thing can spark something in me to design a collection." And military elements are never missing from his pieces, an homage to his mother and father who both served. The current collection is a perfect example of that— a cool blending schoolboy cadet and motorcycle biker.
While it's obvious his favorite medium is denim, he has good reason for it. "Denim is a classic, it's been out for centuries; it's very wearable…even when you wear it and it fades it gives character to it." But with the denim industry being as stagnant as it is, it might be hard to shake it up. His goal is to make jeans cutting-edge and force designers to "think outside the box." he explains. "To move forward and change not just with their clothing, but within themselves and I'm presenting that in denim form."
Making an attempt to push the envelope with traditional jeans can either backfire or be hugely successful, and with a very wearable collection of biker pants in raw denim, it looks to be the latter. Edgy staples make the entire brand easy to coordinate with the pieces already in your closet. "I definitely want to be interpreted as innovative…kind of moving us to the future of what we can look forward to as far as denim," Ruth says. Well, we'll keep our eyes on him, but if his current collection is any indication of what's to come, he's moving in the right direction.
Cotte D'Armes is available online and in select boutiques worldwide. Priced from $200-$1500.
You might like :

Robert Graham Reinvents Men's Closets With Neon Paisley and Fuchsia Baroque Prints
Related Topics : Interview, Jeans, Menswear, Fashion Designers,
Excerpt from: