Mar. 13th, 2014 | Comments 0 | Make a Comment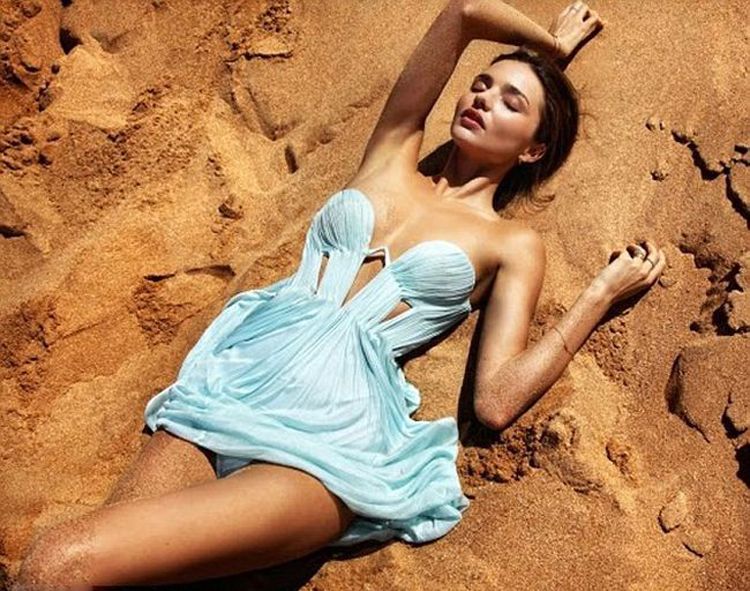 Photos Courtesy of Kora Organics by Miranda Kerr
We will do anything, anything to have the complexion of a supermodel. We will primp, pluck, slather, soak and dab until we collapse—there is nothing we won't try. But on the rare occasions when models come forth with all of their untold knowledge and secrets of beauty perfection, we hang on every syllable like it's our last breath. Even rarer still is when a supermodel comes out with a skin care line that they actually use. Using the same products as your favorite model? That's about as close as it gets to heaven for some of us diehard beauty lovers. For supermodel Miranda Kerr, her brand Kora Organics is her personal secret to flawless skin, and she's totally sharing it with everyone.
Kerr got the idea for her skin care brand in 2007, after unsuccessfully trying to find a line that was on point with her beliefs and organic lifestyle. She spent four years developing the products and searching for the right ingredients to keep her line organic, vegan, non-toxic and cruelty free. "I launched Kora Organics following four years of product development with my organic pharmacist. I spent years trying and testing the formulas myself until I was 100 percent satisfied—I think it's very important to know and make educated decisions about what you put on your skin," she told Vogue UK.
Kora Organics makes no pretense about sharing what exactly is going into your skin. The line uses popular oils and herbs like lavender, green tea, chamomile and aloe vera, but also includes lesser known botanicals like noni, rosehip, sea buckthorn and rose quartz. Native to the South Pacific, noni is a potent fruit that contains within it over 170 vitamins and minerals and is a powerful antioxidant. As Kerr has been drinking the juice of this fruit since she was 12, we're already late to the game. Another favorite of Kerr's is the rose quartz; water is infused with the positive energy of the crystal which has been longed believed to hold healing power as well as a soothing and gentle spirit.
While not every ingredient in the Kora line is 100% organic, Kerr and her team use organic wherever possible and fill in any gaps with natural ingredients. Reportedly users with medical dermis conditions or consistent skin problems witnessed a transformation when trying the line. Personally, I don't have any real skin problems that need solving, but I couldn't pass up the opportunity to have the complexion of Miranda Kerr. Trying the cream cleanser, the balancing rose mist and the day and night cream, my hopes started high, convinced that within a few washes my skin would suddenly become pore-free, pearlescent and more luminous than a 1000 watt lightbulb.
Word of advice: if you go into any new skin care routine expecting miracles you will likely be disappointed. I did not wake up one morning suddenly looking like a Victoria's Secret supermodel, but happily, I did have hydrated, smooth and squeaky clean skin. While normally my dry skin can't take most cleansers without them completely sucking every last ounce of moisture from my face, the cream cleanser was actually quite gentle. I could tell my skin was clear of both dirt and makeup and it left my skin hydrated—not at all tight. The day to night cream worked beautifully, smoothing and hydrating my skin without feeling heavy or oily and was absorbed very quickly. The only downside is the moisturizer does not include an SPF, so if you're looking to roll around at the beach like you're at your own photo shoot, you'll need to add that necessary step. My least favorite product was the toner, although it smelled like a dream and applied so evenly and quickly, it seemed to have the reverse effect and dried out my skin just a bit, likely due to its alcohol content. But those with combination or oily skin would probably benefit from its balancing properties.
Since Kerr has been using natural and organic ingredients most of her life, especially with her rural upbringing in Australia, she chose to create a skin care line that would not only improve your beauty on the outside, but also from within. While all her products are certified organic through Eco-Cert and the Organic Federation of Canada (OFC) the brand is not only about better skin, but a better life. "The products represent my healthy/balanced lifestyle, my beliefs and love of organics," Kerr explains. "Kora is about nurturing your core; your inner and outer self. Your mind, your body, your spirit."
Kora Organics by Miranda Kerr is available online and priced from $25-$200.

Link: