Jul. 15th, 2014 | Comments 0 | Make a Comment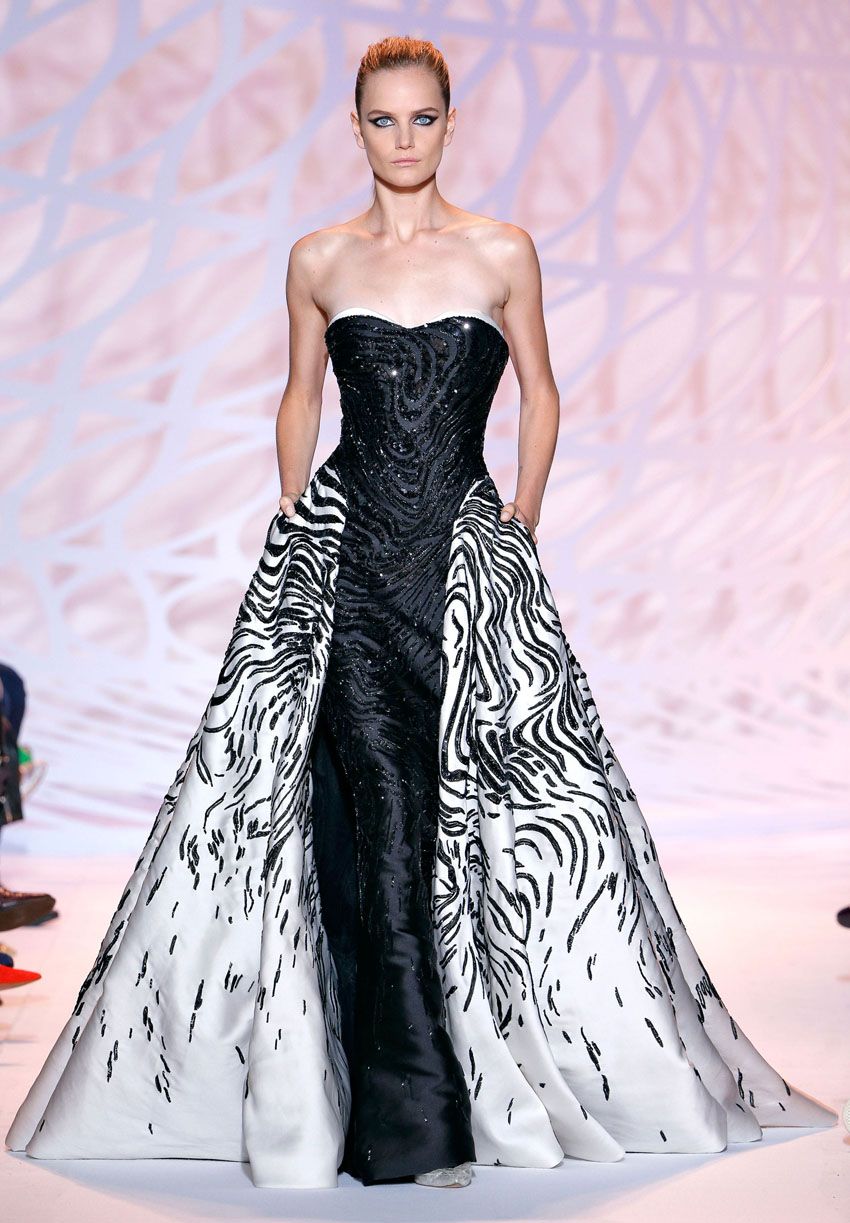 Photo Courtesy of Zuhair Murad
During Couture Fashion Week, we never know what we're going to see on the runway. Princess wedding gowns, over-the-top headgear, or dresses made of concrete or carpet (it's a thing) were all over the catwalk this past week, proving that the designs are anything but predictable. We'll always be fans of the glamorous ball gowns and glittering red-carpet dresses, and this season there were plenty to choose from, from the avant-garde to the most traditional of looks. Almost every designer touched upon a historical influence trying to rework and modernize it to make it relevant for the young contemporaries that are snatching up couture left and right.
Photo Courtesy of Chanel
A few years ago the couture market was sort of hanging by a thread with mummers that "couture is dead." The average buyer was in their 40's-50's and purchasing primarily out of Paris after couture shows, but the last few years have shown an increase in sales due to the opening of untapped markets like China and the Middle East. With the median buyer now ranging from the early 30's to early 40's, designers have been making their collections easier and more youthful, and that look was reflected in last week's couture shows. Despite their references to the past (which most younger shoppers might find vintage and fun), the designs have been reworked into easy-to-wear pieces with modern elements and youthful silhouettes.
Photo Courtesy of Valentino
Chanel referenced the past through baroque designs and accents from Versailles, but kept everything modern with chic sandals, short lengths, on-trend bike shorts and fresh materials like concrete—very 2014, no? Valentino touched on flowing Grecian silhouettes with sheer detailing, perhaps channeling body-baring Rihanna's latest red-carpet reveals. Armani Privé did an amazing job of channeling the bold beauty of old-Hollywood without going too Sunset Boulevard. And while the collection played on the look of big coats and even bigger (faux) fur, high-waisted shorts were popular in the collection, blending the decades together.
Photo Courtesy of Elie Saab
Those women looking for evening gowns (for Oscar after-parties or charity soirées) had a selection from almost every designer on the schedule this past week. Even the casual summer looks at Giambattista Valli had powder-puff, pastel ombré ball gowns at the end of the show. Ulyana Sergeenko's dresses flirted with lace and leather while referencing turn of the century Russia, and Vionnet, which had more than a few two-tone and structural misses, found success in a spine-like curvature on a few red-carpet-worthy gowns.
Photo Courtesy of Schiaparelli
Speaking of the red carpet, more avant-garde designs included a collection of dresses by Viktor & Rolf that were literally made from a red carpet. While the collection may have been lacking in glamour, it made up for it in youthful spunk, which trend-setting 30-somethings will no doubt swoon over. The second collection with recently renewed Schiaparelli, played with '30s silhouettes in bright color and patterns all laced with fur, while Maison Martin Margiela went for face mask, patchwork chic that surprisingly worked.
Photo Courtesy of Vikor& Rolf
While couture has clearly not died, and likely won't thanks to designs by Lagerfeld, Valli and the unique looks from the Vikor & Rolf boys, it is having a bit of a reinvention, dabbling in more youthful creations for a younger market. As 20-somethings we prefer the dream-like designs from Elie Saab or Christian Dior—maybe we need to age a bit before we can fully appreciate the look of a red-carpet towel dress.


Visit link: