Posted: Dec. 12th, 2012 | Comments 0 | Make a Comment
Photo Courtesy of J. Hunter Pearls
Pearls often bring up memories of grandmothers, elderly aunts, and royalty— usually portrayed with beloved strands of pearls around their necks, which was a sign of being ladylike in earlier times. These days, however, pearls have taken on a new life, as they are worn in luxury jewelry by the Gen-Xer and the Millennial, as well. Pearls in translucent, dazzling colors, all natural, and in unusual shapes are often quite rare and expensive.
Pearls like these are the result of perfected work: great pearl farming in warm waters with rich flora. It is not everywhere that such gems can be found, but one place where they can be seen and the long farming process can be understood is at J. Hunter Pearls in Fiji's Savusavu Bay.
Justin Hunter is the CEO, owner and founder of this small company. He was not the first pearl farmer on Fiji— rather, he relates, in the late '50s and early '60s, many Japanese and Australian pearl farming projects came to the unique island. These waters were home to two species of oysters: the Black Lip (Pinctada Margaritifera Cumingi) which produces a black pearl, and the Pinctada Margaritifera Typica, a pearl with diverse colorations. The latter species was rare, even for Fiji, but they did exist. Many farmers eventually left Fiji for Tahiti, where the black pearl industry became profitable due to the plentiful Black Lips oysters.
But Justin Hunter has a different attitude toward pearl farming and its future. Perhaps it is because of his youth, or perhaps it is because of his Fijian and Samoan heritage that he understands the nuances of the rich Fijian culture. He also claims to intuitively read the sky and ocean as, arguably, only a native can. But best of all, his success has allowed him to become deeply involved in working with the Fijians, to provide jobs and better education through scholarships for the children of Savusavu.
I recently asked him about his origins and how they relate to his mission and vision. His work defines a new sense of organicity, eco-sensitivity, and a regard for the living bivalve, where all of his pearls are born.
JL: Tell me about your background. Where did you grow up and where did you go to school?
JH: My early years were spent in Savusavu, Fiji. From the age of 14, I lived with my father's sister and her family in the U.S. I went to high school in Olympia, Washington and then went on to Seattle Pacific University and received a degree in Biology with an emphasis in the marine sector.
JL: When you lived in Savusavu as a boy, did you think of going into the pearling industry? If not, when did you decided to do this?
JH: No, pearling was not in my plans as a young person. When I moved to the U.S., I decided then that I wanted to have a career that would bring me back to Fiji in the future. In those early days, I often thought that hotel management would give me the background to comeback and work here in Fiji, but the Taylor Family, with whom I lived in Olympia, owns one of the most accomplished aquaculture companies in the World. I spent quite a bit of time working within Taylor Shellfish from high school onwards, and then managed the company's hatchery/nursery facility in Kailua Kona, Hawaii after college.
It was actually when I was working at the NELHA facility in Kona that I was exposed to several experimental pearling hatcheries and had the idea of pearling in Fiji. In 1999, my cousin (and now partner in the pearling venture,) Paul Taylor, and I were at the World Aquaculture Show in Australia. We went to a couple of discussions on pearling and one particular session examined the possibilities in Fiji. We decided to stop over there on our way back to the U.S. and by May 2000 I was back in Fiji starting our first pearl farm. It is interesting to note that the Fiji government pearl research was being done in my home town of Savusavu at the time.
JL: Were there any mentors who taught you the basics about the pearling industry? If so, who were they? If not, where did you learn your skills?
JH: There are not many people who give out information regarding pearl farming. It is a very secretive industry so I really had to learn what I did on the job. However, having my family as partners in the venture helped with my success, thanks to their vast knowledge of marine bivalve aquaculture.
JL: What year did you decide to start J. Hunter pearls? What was your mission and vision?
I started in 2000. The mission was to really work with and aid our surrounding communities and villages to produce something special— a very special pearl— and I think we have done that. Our Fiji pearls are some of the most sought-after pearls in the world. We also decided early on to farm pearls in an environmentally responsible manner and have since developed our environmental code of practice. I remain very active in community discussions and decisions regarding the health of Savusavu Bay.
JL: What do you think your creative and competitive differentiators are— those things that separate your and your product from others in the industry?
JH: We produce a pretty unique product. We also produce it in a very sustainable and responsible manner working with surrounding villages and communities so that the product leaves a positive impact in our farming areas. Our pearl color is one differentiator within the industry, and thus our jewelry reflects a wide range of color and overtones. Our extensive background in oyster culture also helps. We have figured out how to collect wild young oysters (spat) using collectors in partnerships with the village's that are within the right marine environment for spat collecting.
We also have a hatchery where we are able to breed our own oysters— this is costly but it allows us to also select specific traits in oysters for pearl productions. We have also been very thoughtful in choosing buyers for Fiji Pearls who will maintain our pearling vision and keep us in high regard in the jewelry industry. We are in the beginning stages of developing a new line of jewelry, Fiji by J. Hunter, which will focus on design-forward trends with an organic feel to the style.
JL: Have there been any surprises that you've encountered in this industry that you were not expecting?
JH: I suppose the overall positive impression and demand for our product has been pretty cool to witness. As I have said, we do not produce very many pearls, as far as raw production goes, (nothing like Tahiti's 15 tons a year) but we are known to produce some of the best. Surprising? Yes, a little, but it has taken lots of hard work and determination to get here. It is great to know people appreciate that we produce something different and beautiful and in a responsible and positive manner.
JL: In another 10 years, where do you expect to be? Do you want to expand your business into other areas? and in other locations?
JH: We are expanding our operations as we speak. We have wonderful options from surrounding Fijian communities to establish farms in their traditional fishing grounds. In 10 years, the numbers being produced will increase. The thing we are working hard to do is make sure that this increase in numbers does not decrease the value and identity of these unique pearls.
JL: Which high-end pearl companies do you sell to?
JH: Prior to Hurricane Tomas in 2010, we sold to some of the more exclusive pearling companies via our annual auctions like Mikimoto, Hahn, Gellner, Bel Pearl, and Provokative Gems in New York. But Hurricane Tomas changed many things— we lost close to 90 percent of the oysters we had on our farms. Since then, our production has yet to return to those numbers. Without sufficient numbers to hold an annual auction, we looked at our clients and decided we needed to work with just one company to try and maintain market presence and even try and grow and promote our pearls during the years it would take for our production numbers to recover.
That company is Gellner based out of Germany, and presently we sell exclusively to them. Jorg Gellner and I have some pretty similar views on pearls— and in particular, the position and allure of our Fiji Pearls. We are both passionate about them; the story and magic of pearls needs to be part of the allure of this natural gem. He and I believe very strongly that our customers want to know about Fiji Pearls on a closer and more personal level— where they come from, the lives of the people who help grow these wonderful gems, and the impact pearling has on the communities surrounding the farms.
JL: How does your mail order business work? If I wanted to buy some pearls from you, how would I do it?
JH: We are in the process of putting up a web catalogue. We get so many people who have visited our farms, who purchase something special, go back home, and then want to buy something else. Our e-catalogue will be based on personal service from our staff in our little store here in Savusavu.
JL: What kind of behavioral attributes must you have to be a leader in this industry? I would imagine patience has a lot to do with your success.
JH:Yes, patience is definitely essential for successful pearling. We are growing gems from a living being and thus we face many challenges. Patience, persistence, believing in what I am doing and the love of beautiful, unique things are the traits that keep me striving toward the perfect pearl.
Read More on

PearlsFiji.com
You might like :

Best Jewelry Designers
Related Topics : Jewelry, Luxury Brands, Accessories, Fiji, Lifestyle News

related articles
> WIN A TRIP TO TURTLE ISLAND FIJI
A $20,000 LUXURY GETAWAY
advertisement
advertisement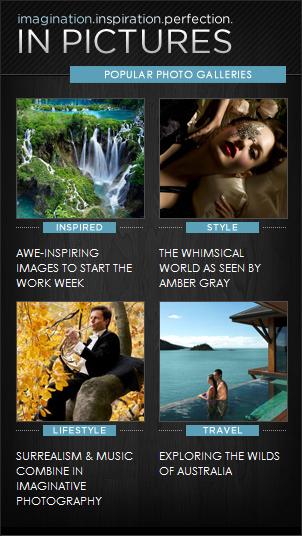 This article –