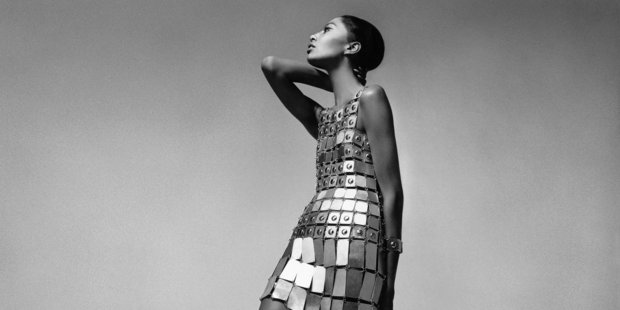 Donyale Luna by Richard Avedon, 1966.

Chloe: Attitudes by Sarah Mower (Rizzoli $149)
Chloe is one of those quintessentially French brands that has managed to maintain its signature look over the years through the vision of several creative directors, from Karl Lagerfeld to Phoebe Philo. This handsome tome successfully chronicles the rise of the first high-end Paris fashion house to sell ready-to-wear clothing since its inception in 1952 by Egypt-born Gaby Aghion. Part of the company's enduring success was fostering new talent such as Lagerfeld, who started work there in 1966, aged 28. Other notable creative directors have included Stella McCartney, whose tenure lasted from 1997 to 2001, and its current creative director, Clare Waight Keller, who has managed to toe the line between moving the brand forward and maintaining the soft femininity with which it has become synonymous.

Lori Goldstein: Style is Instinct by Lori Goldstein (HarperCollins NZ $140)
Lori Goldstein is one of the world's most prolific stylists, having worked with the likes of photographers Annie Leibovitz at Vanity Fair and Steven Meisel at Italian Vogue, and has styled campaigns for Versace, Tiffany's, Gap and Vera Wang. Writing the book's forward, Meisel credits Goldstein with being the first stylist to combine vintage with current season. "What really sets Lori apart is her unrivalled ability to mix," he says. "She loves mixing everything: periods, collections, fabrics, colours, prints, new, old, everything ... yet she puts it all together and it works."

Fashionable Selbyby Todd Selby (Abrams $60)
The popular Selby blog has garnered a loyal following over the years for creator Todd Selby's discerning eye. Fashionable Selby explores the kaleidoscopic world of fashion, featuring profiles of today's most interesting designers, stylists, haberdashers, models, shoemakers and more. Selby's work has been featured in publications such as British Vogue, Nylon, New York Magazine and London's The Sunday Times, and his "Edible Selby" column is a regular feature in T Magazine. This is a must-have for Selby fans and for those who like to take a look into the lives of some of the world's most influential creatives.

Avedon: Women
by Joan Juliet Buck and Abigail Solomon-Godeau (Rizzoli $185)
To accompany the exhibition held at the Gagosian Gallery in Beverly Hills late last year, this book captures the enduring fashion photography of Richard Avedon in a career spanning more than 60 years. Women were a key focus and subject in Avedon's work, with the photographer documenting some of the most important fashion images ever.
His work in American Vogue during the 1960s was prolific under the editorship of Diana Vreeland, as well as his campaign imagery for Calvin Klein Jeans and Versace. It is written by former editor-in-chief of French Vogue, Joan Juliet Buck, who continues to write for some the world's most influential fashion magazines such as W, Harper's Bazaar and the New York Times' T Magazine, and consults on Dasha Zhukova's art and fashion magazine, Garage.

This Is A Kenneth Cole Productionby Kenneth Cole and Lisa Birnbach (Rizzoli $139)
Kenneth Cole is a name that is synonymous with urban New York style, and this is a story that highlights Cole's unique approach to fashion and social activism in a career that spans more than 30 years. The brand's unorthodox beginnings started when Cole created a film set and pretended to shoot a movie in order to gain access to New York Market Week. In two-and-a-half days, Kenneth Cole Productions sold 40,000 pairs of shoes. Contributors to this book also include designer Diane von Furstenberg, actor Robert Redford and former US President Bill Clinton.

Swans: Legends Of The Jet Society by Nicholas Foulkes (Assouline about $250)
The term "swans" emerged in the late 20th century to describe a certain elite who spent time travelling the world via jets and yachts, and who threw decadent parties. This book captures the spirit of the jet-set world, from bygone aristocracy to modern mega-wealthy moguls. Figures such as Aristotle Onassis, Babe Paley and Gloria Guinness were some of the last vestiges of a leisured and cultivated age, a world of taste and culture, elegance and beauty. It's written by Nicholas Foulkes, luxury editor at British GQ, co-founder and editor-in-chief of Finch's Quarterly Review, and a contributing editor at Vanity Fair.

Art & Sole by Jane Gershon Weitzman (HarperCollins NZ $55)
This book highlights more than 150 fantasy art shoes from the Stuart Weitzman collection, as curated by his shoe-loving wife, Jane. "The shoes that I have collected to include in Art & Sole represent the best of more than 1000 that have appeared in Stuart Weitzman stores over the years," she writes in the book's introduction. "I hope you enjoy looking at them as much as I enjoyed working with the very special artists who created them." When Stuart Weitzman opened its first boutique on Madison Ave, its displays of specially commissioned fantasy shoes quickly became a destination, drawing crowds from all over the world to its magical windows. This is where fashion and fantasy meet, thrilling shoe- and art-lovers alike.

Valentino: Objects Of Couture by Maria Grazia Chiuri and Pierpaolo Piccioli (Rizzoli $139)
Accessories play an important part to the fashion industry, and creative directors for Valentino, Maria Grazia Chiuri and Pierpaolo Piccioli, illustrate the success of the Valentino accessories line in this new book. Chiuri and Piccioli took over as the creative directors for Valentino in 2008, after previously working as the accessories designers for the brand. Known for their daring approach to redefining femininity, Chiuri and Piccioli's continuance of accessories design has only magnified the line's popularity.

Fashion Miscellany by Amber Jane Butchart (Thames & Hudson $24)
Launched to coincide with London Fashion Week this week, Fashion Miscellany is fashion historian Amber Jane Butchart's take on fashion's oddities and the little-known facts. The slender book provides a more academic approach to fashion, revealing the history of various items, the origins of technical terms and entertaining quotes from the field.