There's a sense of mystery when it comes to a woman and her handbag, the contents of which can leave any man utterly perplexed. This season's range of handbags however, deflects attention from what's inside, to focus on head-turning sunny colours on the outside, in clean minimalist leathers that will provide a spark to any outfit.
Local favorites Deadly Ponies highlight a bright tangerine deerskin leather in their spring/summer 2013 collection, entitled "Sand Castle". The Mr Penny pouch bag (#3) is the perfect balance of structure and slouch, complete with a long, detachable shoulder-strap and fine brass hardware details.
The iconic "Alma" bag from Louis Vuitton has been revitalised over the years, including the sleek Epi leather version (#2) in a sunny yellow. The style was said to be the only other bag that the late designer Coco Chanel ever carried besides her own designs and, thanks to its ladylike shape reinforced with polished silver and luxurious leather trimmings, this is one handbag that continues to stand the test of time.
Yellow also makes an appearance in Victoria Beckham's line of sleek, minimalist handbags.
Receiving plenty of attention since her successful turn as a fashion designer in 2008, her range has recently won praise for its chic line of bags.
Beckham's latest release is the yellow "Seven" bag (#1), a new take on a bowling bag shape that allows you to enjoy the benefits of looking both sporty and posh.
Bags We Love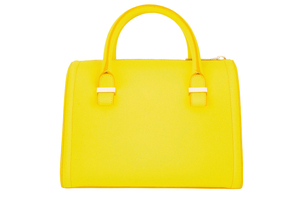 1. Victoria Beckham Seven bowling bag, (POA) from Net-a-Porter
2. Louis Vuitton Alma bag, $3450
3. Deadly Ponies Mr Penny Pouch, $495
4. Alexander Wang Rockie bag, $1079, from Workshop
5. Miu Miu, frame bag, $9270
6. Gucci Borsa Soho bag, $2200
7. Mi Piaci Violetto bag with detachable strap, $360
8. Mimco Molten bag, $499
Stockists: Deadly Ponies (09) 551 1151, Gucci (09) 368 1138, Mimco (09) 523 2412, Mi Piaci, Miu Miu +61 2 923 51272, Net-a-Porter, Workshop (09) 303 3735
By Dan Ahwa

Email

Dan