Home >

Fashion >

Chatter >

Fashion Disaster at the 2014 Grammy Awards: The Best of the Worst
Jan. 27th, 2014 | Comments 0 | Make a Comment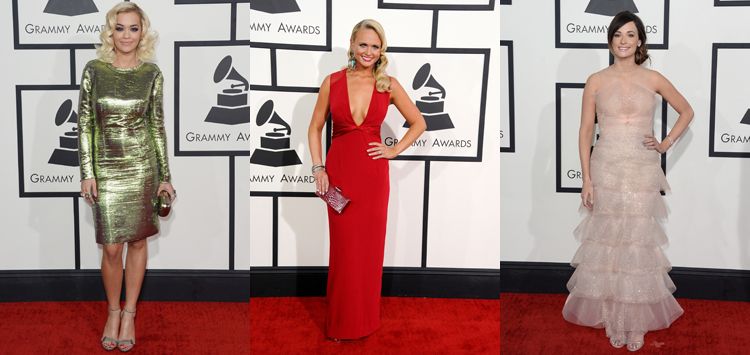 Photos Courtesy of Lorraine Schwartz Gold Jewelry & For
The Grammy Awards show is one of the stranger events during awards season—maybe it's all the performances, or its slighter younger rock 'n' roll crowd, or the wild music that just gets people overly pumped—but for some reason red-carpet stars don't always bring their A-game. Celebrities wore grills, frumpy suits, giant hats and dresses that looked like they were more suited for a brothel than a Hollywood event. We know you have access to better looks than these, ladies. But out of all those high-cut, thigh-baring, mis-matched outfits there were a few that we sort of loved. Not because they were more traditional red-carpet gowns, but because they weren't letting it all fall out—just because you can pull it off doesn't mean you should.
Photo Courtesy of Forevermark Diamonds
Kacey Musgraves—The country music star may have won a Grammy for Best Country Album, but she totally won our hearts in her pale pink Armani Privé gown. It was light and delicately studded in Swarovski crystals with light tulle tiers that, thankfully, didn't make her look like a cupcake. She topped off her gown with Forevermark Diamonds' The Center of My Universe stud earring and bangle set in 18k rose gold, and Jimmy Choo Lance silver heels.
Photo Courtesy of Loree Rodkin Gold Jewelry
Kelly Osborne—We can honestly say we've seen some serious red carpet no-no's from this rock princess, but last night's gown was simple, sleek and anything but your basic black. There to support her dad who was nominated for the evening, Osborne wore a Badgley Mischka dress, Loree Rodkin yellow gold and diamond rings, her dad Ozzy's cross, and Brian Atwood shoes.
Photo Courtesy of Kimberly McDonald Gold Jewelry
Louise Roe—Stars take note: if you're going to be doing cutouts on the red carpet, keep them simple and not in a place you're likely to have a nip-slip. Roe wore a little black dress, with on-trend cutouts in some very appropriate places. A little on the sides, some detailing on the top—it was fun and kept everything covered. She added a Kimberly McDonald yellow gold diamond and geode earrings, rings and bracelet for a little sparkle.
Photo Courtesy of Forevermark Diamonds
Miranda Lambert—Wearing one of the most beautiful red gowns of the evening, Lambert donned a custom Pamela Rolland dress with a plunging neckline that was sexy and sleek without being overdone. Sticking with the red trend that's so big this awards season, the Grammy nominee paired the dress with a Kimberly McDonald for Forevermark diamond bangle set in 18k oxidized gold.
Photo Courtesy of Lorraine Schwartz Gold Jewelry
Rita Ora—Metallics were all over the carpet during the Grammys from Taylor Swift's Gucci gown to Ciara's Pucci dress, but what we really loved was Ora's youthful take on the trend. She wore a green, metallic Lanvin dress, with long sleeves and a short cut. The look was modern, fresh and totally different than the floor-grazing gowns we saw last night. She wore it with Lorraine Schwartz gold and diamond rings and Lanvin heels.

Continue reading: