Evening wear takes a more casual approach this season as fanciful fabrics collide with the practical. It's a look that's not only modern but works with New Zealanders' general preference for dressing down.
The humble sweatshirt has become the key wardrobe item of the season as designers develop new ways to re-work it with embellishments, graphic motifs and brocade details.
Theory is one label that has garnered a loyal following for its modern take on classics. Their elegant houndstooth print jumper (#1) works just as well over an embellished pencil skirt as it does over a pair of jeans, giving an updated take on a classic print and a reliable wardrobe piece in the process.
Another key casual wardrobe item that is getting the luxe touch is the bomber jacket.
Juliette Hogan's "Johnny Bomber" (#4) is a great alternative to a dinner jacket that can be worn over a T-shirt for a modern take on evening elegance.
Where the look errs more on the side of casual, select statement jewels such as drop earrings or a necklace for contrast. Along with jewellery, shoes are important here too, so invest in a decent pair of this season's elegant strappy stilettos with a skinny heel or a pointed pump that will work for several occasions.
For a touch of personality, try a heel with a bright, block colour to add a subversive touch to an otherwise monochromatic look.
Evening looks we love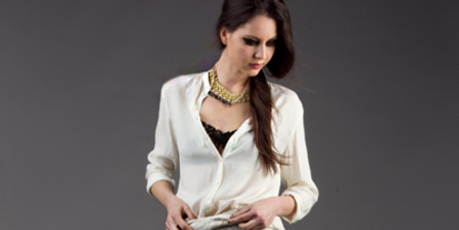 1. Theory jumper, $295, from Muse. Pauw sequin skirt from Adorno. Swarovski earrings, $625. Karen Walker patent embossed clutch, $392. Topshop heels, $120, from The Department Store.
2. Kate Sylvester lace bra, $165. Neuw blouse, $119.90. Juliette Hogan skirt, $329. Deborah Sweeney jumper, $356.50. Jessica Aggrey Jewellery multi-link necklace, $240. Karen Walker pendant, $35. Kobe Husk heels, $219.95.
3. Juliette Hogan sweat top, $229. Taylor pants, $397. Swarovski cuff, $245. Diva earrings, $10.99. Kate of Arcadia clutch, $410. Topshop heels, $120, from The Department Store.
4. Juliette Hogan T-shirt, $149, and bomber jacket, $399. Carlson skirt, $299. Glassons heels, $39.99. Diva pearl hair clips, $14.99 (set of three).
5. Blak Luxe jumper, $259. Taylor sequin dress, $567. Swarovski brooch, $305. Sol Sana heels, $209.95.
Stockists
• Adorno (09) 378 4333
• Blak Luxe
• Carlson (09) 361 2137
• Diva
• Deborah Sweeney
• Glassons
• Jessica Aggrey Jewellery
• Juliette Hogan
• Karen Walker
• Kate of Arcadia
• Kate Sylvester
• Kobe Husk
• Muse (09) 520 2911
• Taylor (09) 376 6544
• The Department Store
• Sol Sana
• Swarovski (09) 522 1518
By Dan Ahwa

Email

Dan