High-fashion brands have given the humble sweatshirt a makeover, turning it into one of the season's most-coveted wardrobe stars. For his penultimate collection for the house of Balenciaga, Nicolas Ghesquiere re-worked the sweatshirt into voluminous neoprene variations, featuring eye-catching 80s space motifs that looked like they'd come straight off a George Lucas film poster.
The animal head sweatshirt has also been a strong motif for several labels such as Givenchy, whose snarling rottweiler and panther head prints have made them an identifiable brand name among a new demographic of fashion-savvy customers.
Kenzo's creative directors Humberto Leon and Carol Lim have used the iconic tiger head as a way of returning the label to its Asiatic design influences. Close to home, Glassons and Trelise Cooper have both highlighted tiger head prints in their own collections (#1) and (#5).
"People have done almost everything they possibly can on a sweatshirt," explains Harvey Nichols' fashion director, Paula Reed, in a recent interview with The Business of Fashion. "We can't keep them in store, we don't have any on markdown. They sell out. And they have for the last couple of seasons."
Check out our favourite sweatshirts below: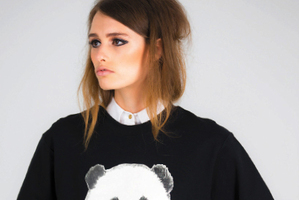 1. Glassons jumper, $50. Karen Walker pants, $476. Stella McCartney
platform wedges, $890, from Runway. Zelda Murray beaded necklace, $160, from Miss Crabb.
2. Twenty-seven Names jumper, $260. Lucy McIntosh shirt, $315. Karen Walker pants, $476.
3. Stolen Girlfriends Club jumper, $336. Lee jeans, $199.90.
4. Lee jumper, $109.90. Levi's jeans, $159.95. Deadly Ponies shoulder bag, $290.
5. Trelise Cooper bomber jacket, $399. Fifteen Twenty silk shirt, $470, from Little Stitch. Stolen Girlfriends Club skirt $168.


Stockists: Deadly Ponies (09) 551 1151, Glassons Karen Walker (09) 309 6299,
Lee, Levi's 0508 501 555, Little Stitch (09) 214 6848, Lucy McIntosh (09) 368 1981, Marcs, Miss Crabb (09) 361 3322, Runway (09) 522 0808, Stolen Girlfriends Club, Trelise Cooper (09) 366 1962, Twenty-seven Names (04) 384 1152.
By Dan Ahwa

Email

Dan