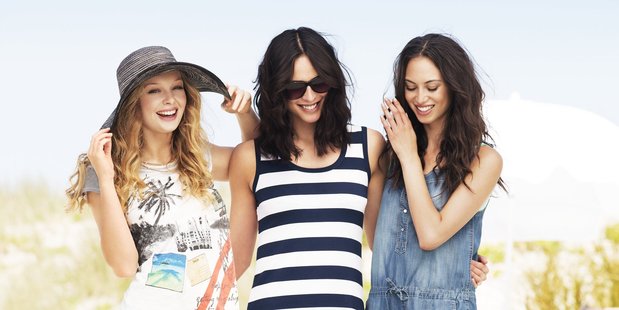 Whether you've headed out of town already or you're still working but escaping to the beach when you can, it's summer holiday time.
Max's summer collection suits a variety of age groups at affordable prices. Check out Calvin Klein Jeans for some hot pastel jeans, an easy way to go from the beach to the barbecue while keeping it chic. A beach dress from Witchery is perfect to throw over your swimsuit. And stay cool with a fabulous Country Road cap protecting your face from the elements in a vintage-inspired fashion.
Try Radiance Oil of Beauty - which aids to moisturise, soothe and protect your skin from the inside out; especially important during these months of UV exposure.
The line up has my selects for your beach essentials - swimwear, sarong and jandals. Have a wonderful and safe holiday break and I'll see you next year.
Main photo: From Left to Right: Linear wide brim hat $49, Leather strap cuffband (worn as a necklace) $29, Miami handwriting tee $49, Sporty border short $59, Border stripe tunic $79, Soft cat eye sunglasses $39, Tie shoulder dress $89, Satin trim tank $25.
All from Max.
Follow Leigh on Twitter