The high-octane style of the late 70s and early 80s prevails this season as model Crystal Liu pays tribute to the doyennes of excess - exotic beauties such as Bianca Jagger, Marisa Berenson, Grace Jones, Pat Cleveland and Tina Chow. Too much of a good thing was never enough and being the last one at the party (Studio 54, of course) was never a fashion faux pas. Excess at its best, this is the power of glamour.
I GOT YOU BABE
As a mother of two, Crystal is always on the go. Here with 5-month-old son Daniel, she wears a Prada leather coat with chinchilla fur sleeves, $18,610, and a Prada gingham skirt, $2630, Loewe handbag, $3620, Emporio Armani watch, $907, from DFS Galleria. Swarovski by Sharouk drop earrings, $860, and an elegant Swarovski by Sharouk square-cut ring, $305, complete this look of luxe.
C'EST CHIC
A printed Italian silk blouse in a kaleidoscope of colours by Jane Daniels, $749, works best with a block colour pant, such as these Gregory flared pants in red, $269.
Take a style tip from the inimitable Diana Vreeland and pile on gold bracelets and bangles over the sleeves. Christian Dior pearl and gold bangle, $580. Diva gold cuff, $19.99, gold chain bracelet, $10.99, gold bangle, $16.99 (set of three), spike drop earrings, $14.99, oversized ring, $16.99, and gold mesh necklace, $22.99. Salvatore Ferragamo quilted purse with gold chain strap, $2010, from DFS Galleria. Red Hawk chair, $735, by Simon James from Simon James Design.
PUMP UP THE VOLUME
A jolt of bright orange is the perfect way to get the party started. Miuccia Prada's typically frivolous exploration of the Miu Miu woman was again seen in their autumn/winter 2013 collection. Here, Crystal wears Miu Miu Look 13: a padded coat, $3680, pleated skirt, $1970, belt, $260, taffeta scarf, $330, stockings, $260 and heels, $1258. A clashing Christian Dior "Diorling" handbag in pink, $4100, works well, with its supple grained calfskin, magnetic clasp, and chic chain strap.
Take a look at all of Crystal Liu's looks here: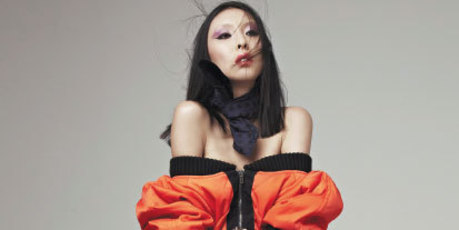 BOOGIE NIGHTS
Crystal wears a Gucci jaguar print silk chiffon crossover gown, $8530 and a Gucci wide leather belt, $640. For added drama, try Natalie Chan's feather boa, $300 and some serious shine with Swarovski by Sharouk drop earrings, $860, and matching brooch, $305. Mi Piaci gold metallic heels, $280.
M.A.C makeup artist Kiekie Stanners has created an alluring look using the new M.A.C x Antonio Lopez collection, inspired by the iconic illustrator whose work was prolific during the late 70s and early 80s. In keeping with the disco era theme, the collection's colour scheme is vibrant and saturated, with fuchsias, purples and even an electric blue.
"The collection is symbolic of a time when indulgence was at its peak . There was a magic to his world and a time in history that hasn't been recaptured; I think people are lusting after that glamour, which is difficult to come by today."
LOVE HANGOVER
Cocktail hour demands attention to the dress code. Jackson cuts a dapper figure in this Crane Brothers made-to-measure navy dinner suit, $2295, white dinner shirt, $495, silk bow tie, $69, and onyx cufflinks, $295. Crystal wears Paula Ryan top, $195 and embellished beret, $195. Feather boa by Natalie Chan, $199 and crystal on cashmere felt necklace, $650. Pasquale Bruni earrings from the exquisite Mandala collection, $16,500, and matching bracelet, $30,200, from Hartfield. Flat-top dome ring of six citrines and claw-set purple sapphires, $7450, from Partridge Jewellers.
SMOOTH OPERATOR
Crystal's relaxed glamour is realised in this luxurious 100 per cent pure silk satin pyjama set by For Every Minute. Pyjama shirt, $289, pants, $279 and robe, $649. Nude platform heels, $170. Swarovski cocktail ring, $595, earrings, $305, and pendant, $245. Swarovski by Sharouk square-cut ring, $305. Diva diamante rose ring, $19.99. Simon James Heidi stool, $1305, from Simon James Design.
ALL TOMORROW's PARTIES
Crystal wears a vintage orange gown donated by Zora Price to the New Zealand Fashion Museum's new exhibition, The Age of Aquarius - a 70s retrospective running from September 14 to October 13, celebrating the influence of fashions from the 1970s. Swarovski drop earrings, $245. Jackson wears a complementary Crane Brothers made-to-measure pinstripe suit, $2195, white dinner shirt, $495, and silk bow tie, $69.
SCENT OF A WOMAN
As New Zealand's number one selling fragrance, Opium by Yves Saint Laurent evokes a sense of old-school glamour. Available as an eau de toilette 50ml, $169; 90ml, $245; and an eau de parfum 50ml, $192. Crystal wears a dramatic Shen kimono maxi dress in red, $379, accented by a sleek gold cuff from Diva, $19.99.


Stockists: Christian Dior (09) 356 6920, Crane Brothers (09) 377 5333, DFS Galleria (09) 308 0700, Diva, For Every Minute, Gregory gregory.net.nz, Gucci (09) 368 1138, Hartfield (09) 373 2472, Jane Daniels, Mi Piaci, Miu Miu +61 2 9 235 1272, Natalie Chan (09) 303 4930, Nude (09) 368 1981, Partridge Jewellers (09) 309 8925, Paula Ryan, Prada +61 2 9 223 1688, Shen, Simon James Design,
Swarovski (09) 379 0490.
By Dan Ahwa

Email

Dan