Over the years, the pinstripe has been revisited by designers looking to add a touch of the sartorial into their collections.
The late Yves Saint Laurent and Giorgio Armani became even more prolific during the corporate boom of the 80s, with both designers focusing on chic, tailored pinstripe pant-suits for the independent working woman of the time. Saint Laurent's "le smoking" tuxedo turned heads, particularly in a sleek pinstripe version that gave new life to black tie dressing.
Today the classic style has gained a modern perspective, as designers focus on transforming the pinstripe's staid reputation into fresh and understated pieces for the new season.
The navy silk pinstripes at local favorite Lonely Hearts work well in both formal and informal situations, with the label highlighting spaghetti-strap dresses (another key trend for the season), soft blazers (#3) and a slightly oversized ruffle dress (#4) that works well with either a pair of loafers or a tailored jacket and heels for an easy option for the workplace.
Crane Brothers have also highlighted classic pinstripe suiting (#1), focusing on made-to-measure options for the boys that girls can enjoy wearing as a slightly oversized jacket, belted at the waist and worn with a pair of jeans for an irreverent approach to dressing down tailored pieces.
Check out our favourite pinstripes styles below: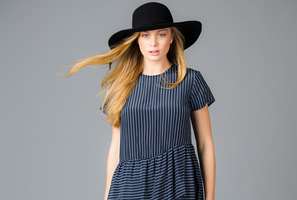 1. Crane Brothers pinstripe suit, $2395 (made to measure). Topshop sweater, $80, from The Department Store.
2. World pinstripe blazer, $699, and pinstripe skirt, $425. Lucy McIntosh shirt, $315. Beau Coops for Karen Walker platform heels, $565.
3. Lonely Hearts pinstripe blazer, $385. Topshop sweater, $80, from The Department Store. Kate Sylvester skirt, $685 Deadly Ponies shoulder bag, $290. Max heels, $179.
4. Lonely Hearts pinstripe dress, $349. Max felt hat, $59. Sylvester loafers, $345.
5. Stella McCartney, autumn/winter collection 2014.


Stockists: Crane Brothers (09) 377 5333, Deadly Ponies (09) 551 1151, Karen Walker (09) 309 6299, Kate Sylvester (09) 307 3282, Lonely Hearts, Lucy McIntosh (09) 368 1981, Max, Sylvester (09) 307 3282, The Department Store (09) 489 6687, World (09) 373 3034.
By Dan Ahwa

Email

Dan