Combining prints with prints may have worn itself thin lately, as over-styled street-style stars continue to saturate the trend. This season, however, the new clash focuses on wearability, combining painterly florals with perennial stripes.
The mix of florals with classic stripes provides a modern take on wearing print on print, keeping things fresh, and it's an easy transition into the warmer summer months ahead. A resort feel is key, so look to languid tops, fun skirts and casual pants for effortless poolside chic.
Carlson's current range focuses on a micro floral print on a blue base that works well worn with graphic stripe separates. The strapless "Mulholland" top (#1) gives a new twist on the peplum detail, with the fabric working its way into other pieces from the collection including tailored pants, a summer dress and short shorts.
Knit stripe tops and floral pants see no sign of waning, so try wearing them together. The tropical foliage print sweater from Lonely Hearts (#4) is the perfect piece to wear with graphic monochromatic stripes, and for something bold, Ingrid Starnes' knit top makes an impact in a striking orange (#2). If in doubt, opt for a classic Breton-style stripe top that can be worn with pretty much anything in your wardrobe, even the most flamboyant florals.
Clashing looks we love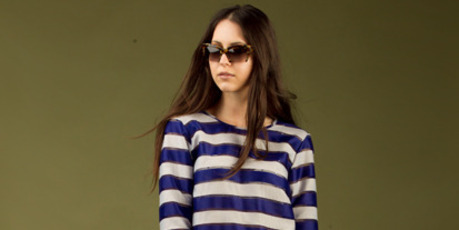 1. Carlson strapless peplum top, $299. Urban Precinct skirt, $44.99, from Farmers. Sol Sana heels, $209.95.
2. Ingrid Starnes top, $289. Anne Mardell skirt, $229. Glassons heels, $39.99.
3. Blak Basics singlet top, $110. Maurie and Eve pants, $156. Kobe Husk heels, $219.95. Jessica Aggrey Jewellery bracelet, $120. Karen Walker embossed clutch, $392.
4. Lonely Hearts jumper, $239. No Issue jeans, $69.99, from Farmers. Kathryn Wilson flats, $289. Miu Miu sunglasses, $600, from Sunglass Hut.
5. Blak Luxe top, $219. 3.1 Phillip Lim pants, $650, from Adorno. Kobe Husk sandals, $219.95.
Stockists
• Adorno (09) 378 4333
• Anne Mardell (09) 373 9911
• Blak Basics
• Blak Luxe
• Carlson (09) 361 2137
• Farmers
• Glassons
• Jessica Aggrey Jewellery
• Karen Walker
• Kobe Husk
• Lonely Hearts
• Sol Sana
• Sunglass Hut
By Dan Ahwa

Email

Dan