In a world that relies on smartphones to keep a track of our lives and the time spent living it, it's little wonder how the act of wearing a watch has evolved from its practical origins to one that focuses now purely on aesthetics. There's no denying the timeless quality of an elegant timepiece with roman numerals - they add a touch of sophistication and polish to any outfit.
The use of roman numerals in watchmaking originated in the 16th century, when pocket watches were adapted from the ancient Egyptian sundial. During World War I, roman numerals were used as a way of registering the time at a quick glance for soldiers in battle.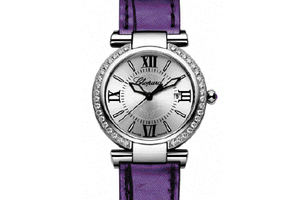 Today, a watch with roman numerals signifies a decorative design element that has found its way into myriad watch designs from some of the most respected watchmakers in the world.
Chopard's elegant designs have a discerning following, and the Imperiale 28mm watch in stainless steel (#1) is a shining example of the brand's classic aesthetic. Complete with a mother-of-pearl face and diamond-set bezel, it's an investment piece of jewellery that works well with any outfit and highlights the numerals to full effect.
Oversized man-style watches are also popular with several women's watch offerings, such as the "Wren" from Michael Kors (#6). It's an opportunity to channel the spirit of French style icon and YSL muse Betty Catroux, whose irreverent tomboy style often included a simple white blouse, pants and a classic man's-style watch, a look that continues to inspire and stand the test of time.
Stockists:
• Asos
• Boxer
• Citizen
• Little Stitch (09) 214 6848
• Mansor's Jewellers (09) 303 2839
• Partridge Jewellers (09) 309 8925
• Pascoes pascoes.co.nz
• Swatch +613 8844 3300
• Walker & Hall (09) 845 8590.
By Dan Ahwa

Email

Dan