Pixie cuts and chunky flat shoes get a tick but see-through yoga pants are a no-no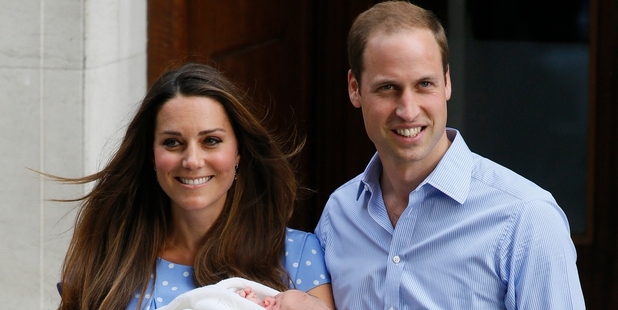 The Duchess of Cambridge, didn't try to hide her mummy tummy. Photo / AP
It was a year for pixie haircuts, chunky flat shoes, bangs on America's first lady and bare skin ... lots of it, on movie actresses and pop stars. A look back at these and other key fashion moments of 2013.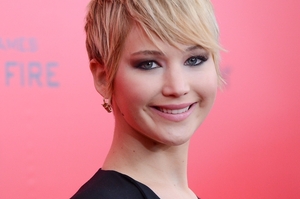 • Michelle's fringe - President Barack Obama actually called his wife Michelle's new hairdo the most significant event of his second inauguration. Unveiled just in time for the festivities, the new hairdo made enough news to have its own (unofficial) Twitter account, FirstLady'sBangs, which issued alerts such as "Just got a text from Hillary Clinton's side-part".
• Queen of the runway, airwaves and everywhere else - By the time she appeared in a lovely Stella McCartney floral frock and high red leather pumps as a judge on Project Runway, it was clear: in the realm where Hollywood meets fashion, Kerry Washington is royalty. On her hit show Scandal, playing professional fixer Olivia Pope, she was all professional Washington - Washington, DC, that is but on the red carpet, she was glamour personified.
• Kate makes us feel great - Much has been said about the fashion sense of the Duchess of Cambridge but this year something a bit different caught our eye. Peeking out under her blue-and-white polka dot dress as she emerged from the hospital post-childbirth was a pronounced "mummy tummy," a normal development but something most celebrities keep under wraps, until their personal trainers have whipped them back into magazine-cover shape. Thanks, Kate!
• Lululemon, not so much - Remember those popular yoga pants that had the unintended effect of being see-through? Well, ladies, turns out the ongoing fabric problems with those pants, including pilling, was YOUR fault. Or rather: the fault of your thighs. Founder and (now outgoing) chairman Chip Wilson of Lululemon Athletica noted in a TV interview that "Frankly, some women's bodies just actually don't work" for the pants, because of thighs rubbing against fabric.
• Taking it all off - Gwyneth Paltrow was happy to show just how little cellulite she has when she appeared at the Iron Man 3 premiere in a dress with sheer mesh panels on the sides, leaving little of her lower body and, er, posterior to the imagination. But we all nearly forgot about Paltrow when we saw actress Jaimie Alexander at the Thor premiere, her black gown expanding the see-through effect to the midriff and upper regions. Let's just say these actresses are saving money on underwear.
• Designer moves - A Paris runway show full of mournful symbols and lots of black was designer Marc Jacobs' sombre goodbye to Louis Vuitton in October after 16 years as creative director. Under Jacobs, who also has his own eponymous brand, Louis Vuitton became the most lucrative fashion house in the world, in part thanks to Jacobs' creation of a ready-to-wear line.
• Taking designers to task - Legendary supermodels Iman and Naomi Campbell called out designers whose catwalks were almost completely white. The two joined modelling agent Bethann Hardison in their Balance Diversity campaign. Iman, now 58, said she was shocked to hear there were fewer black models on the runway than when she stopped modelling in 1989.
• Lesbian couture - The message was unmistakable: at the Karl Lagerfeld haute couture show in Paris, the designer sent two brides down the runway for the finale. The brides walked hand-in- hand in their feathery concoctions, a clear vote of support by the designer for France's gay marriage law.
• The flat shoe, the pixie cut - In shoe stores this year, you could see a trend toward flats, including a notable reinterpretation of chunky Birkenstocks. Virginia Smith, Vogue's fashion market and accessories director notes: "Every woman wants a flat right now, and that has a big impact on fashion because it changes proportion." Another trend: pixie hair, on everyone from Michelle Williams to Anne Hathaway to Jennifer Lawrence.
• Trendsetter Miley? - Speaking of influence, dare we call Miley Cyrus a trendsetter? She was already a trailblazer with her pixie cut from last year, but hey, you probably were too busy watching the stuck-out tongue, teddy bear leotard and nude bikini (which falls into the baring-it-all trend at the MTV Video Music Awards). Only weeks later, though, she was all elegance in sequined Marc Jacobs at the Night of Stars gala. Miley the fashion icon? Not by the standard definition. But heading into 2014 she was one of the world's most-watched people. Blurred Lines indeed.
- AP