Posted: Dec. 14th, 2012 | Comments 0 | Make a Comment
Photo Courtesy of 111 SKIN
There's no need to be baffled about what to buy the woman in your life with our helpful selection of spot-on luxury gifts.
Billed as the next generation of anti-aging skincare, the range from 111 SKIN will be a welcome stocking-filler this Christmas. The products are the creation of American surgeon Dr. Yannis Alexandrides of 111 Harley Street, London. There are eight stunning products in the range, from the energizing Youth Tonic and Facelift Repair Serum, to the Bright Eye Lift Gel— which promise to hydrate, regenerate and detoxify skin cells using ingredients that limit the effects of environmental damage. Available online or in Harrods, London. Prices range from £35-£190 (or about $46-$250, at current exchange rate.)
This Alice Temperley-designed Filofax is a must for the busy company boss or socialite. Marrying style and fashion with the unique functionalities of a personal organizer, this new range comes in two beautiful designs: Ikat and Violet. The bold print of the Ikat makes it the ideal accessory for any fashionista looking to go seamlessly from day to night. This unique organizer has a removable diary, which transforms it from an organizer into a clutch bag for the evening. The compact version is our favorite, from £165, or about $216 at current exchange rate.
For tresses worthy of A-list holiday parties, The Berber Collection by Osmo will put some shine into your mane. Infused with Argan Oil, this revolutionary product breathes new life into tired, dull, lifeless locks. Now available as a luxurious Gift Set, this intensely nourishing collection includes Berber Oil Shampoo, Berber Oil Mask and Berber Oil Hair Treatment– ideal for pampering over the festive season. These products are delightful to use and deliver silky, radiant results. From £19.95, or about $26.
Get in her good books this Christmas with Douvall's limited-edition gift set boasting the Organic Argan Oil Moisturiser and All-in-One Oil Cleanser. Argan Oil is considered one of the world's most natural beauty sources; used for hundreds of years, the nut oil is native to Morocco, where the women swear by the miracle oil to treat the body from top to toe. Alicia Douvall has taken inspiration from this wonder oil and created her own beauty range, ethically harvested and hand-blended by a local Moroccan woman's co-operative set to enhance the daily beauty regime. The products promise anti-aging qualities, and the Gift Set is available from Urban Retreat at Harrods and online, for £35 (or about $46, at current exchange rate.)
Make sure you have sweet dreams with this delightful collection from Elemis. Start by unwinding with a Quiet Mind Relaxing Bath Elixir for total indulgence, then use the Wild Lavender, Hand & Body Wash with its stress-free aroma. Next, use the Cellular Recovery Skin Bliss Capsules, which contain a high concentration of antioxidants to help reduce the visible signs of aging and the damaging effects of pollution. Lastly, finish with Pro-Collagen Oxygenating Night Cream— suitable for all skin types, it works to deeply moisturize your complexion as you sleep, promoting skin elasticity and hydration. A lovely end to a festive party for £66 or $87.
Jovoy's signature unisex perfume is a stunning gift for men or women. A sensual and inviting fusion of seductive vanilla and subtle musk, blended with elegant warm amber and exquisite rose, it leaves the most sensuous trail on the skin. It's fresh and spicy as well as bursting of floral hints— a lovely choice for daytime or a special occasion. A 100-ml bottle goes for £100 ($132.)
For a luxury scent, Undergreen's Gold is an exquisite gift this Christmas. Unleash the pure vivacious spirit of Gold and experience a hedonistic and vibrant explosion of sparkling scents this festive season. With a seductively refined composition, its enchantingly stimulating and refreshing harmony of fruits and spices guarantee to arouse and bewitch the senses. £120 ($158) for 100 ml.
Make sure your hair looks its best over Christmas with this great selection box from Macadamia Hair. Your locks will be shiny and bouncy after using the shampoo, masque and treatment from this luxury range. Presented in a gorgeous box, this will make a fantastic gift to open on Christmas morning. Containing all the heroes of this now world-renowned hair care line, you're bound to find something your hair can't live without after indulging in these eight deliciously presented offerings that really leave hair looking and feeling its absolute best for £85, or $112 at current exchange rate.
Carol Joy, renowned for anti-aging products, has created two exclusive "his and hers" luxury beauty sets. It's made up of highly effective and luxurious ingredients including Micronised Diamond Dust, Golden Millet Seed Oil, Collagen Boosters and Cell Guard, all proven to leave the skin radiant, renewed and repaired. Our favorite is the Carol Joy London Christmas stocking for £250, (worth $328) containing five essential products from the range. Included are the IV Ever Complex, the cornerstone ingredients of Carol Joy London, to cleanse, lift and pamper.
Murad is the high-performance skincare brand from LA, created by world-renowned dermatologist Dr. Howard Murad. Celebrity fans include Christine Bleakley, Lisa Snowdon, Fearne Cotton, Holly Willoughby, Nicole Scherzinger and Renee Zellweger. The Complete Renewal gift set is a great addition to the presents under the tree. The products are a delight to use, with the Essential-C Daily Moisture putting a glow in our cheeks, while the Hydro-Dynamic Ultimate Moisture for eyes hid the signs of too many Christmas parties.
Available in Liberty and Fortnum & Mason, Noble Isle products bring a touch of class into the home. Inspired by the British Isles, these gifts make great presents for those who like the finer things in life. Our favorite is the Noble Isle Willow Song Lavenham Walk Candle & Snuffer at £39, or $52. An unreservedly romantic fragrance, it reminds us of floaty green florals and mellow woods. The candle is made in England and finished by hand with a fine balance of wax, wick and fragrance to create a superb aromatic candle that imparts ambiance and warmth to a room, radiating evocative fine fragrance.
You might like :

Our Favorite Gifts for Gadget Lovers
Related Topics : Holiday, Gifts, Accessories, Home, Beauty Products, Anti-aging,
related articles
> WIN A TRIP TO TURTLE ISLAND FIJI
A $20,000 LUXURY GETAWAY
advertisement
advertisement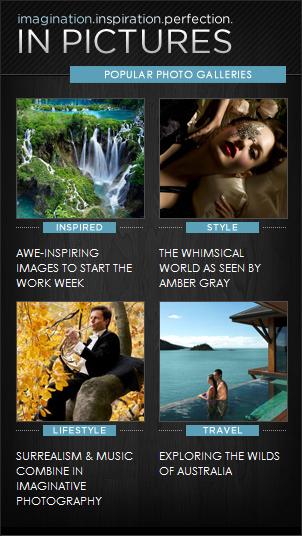 More here: