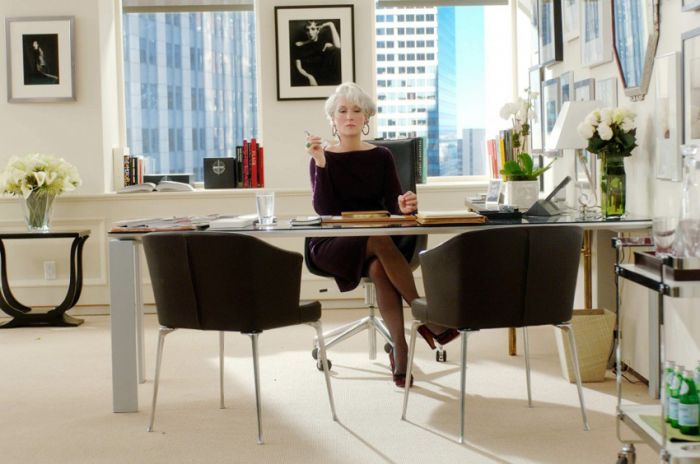 Photo Courtesy of 20th Century Fox
We can't say our imagination doesn't fly straight to The Devil Wears Prada references whenever we think of the Vogue offices. Condé Nast seems like one of those places where women are blanching at the mere thought of eating more than one stick of celery a day, men are looking more stylish than David Beckham and interns spend their days fetching coffee. And not surprisingly, our guesses weren't far off. Yesterday, former GQ associate editor Lauren Bans confessed to being Twitter's @CondeElevator—the account that confirmed all our suspicions.
Since we're all coming out now http://t.co/qaCNPkTv1z : I was @CondeElevator !

— Lauren Bans (@LaurenBans) February 25, 2014
Home to the offices of magazines like Vogue, GQ, Vanity Fair, Glamour, Lucky Magazine, Self and Allure just to name a few, Bans posed as the Condé Nast in-house elevator, tweeting scraps of conversation overheard on the ride. We read everything from the expected omg-you're-actually-eating-that, to the trite "that shirt is so two months ago."
Male coworker: I'm not judging you.

— Conde Elevator (@CondeElevator) August 10, 2011
Lady: Is this going up?

— Conde Elevator (@CondeElevator) August 9, 2011
Summer Intern: "Was that…?" Intern #2: "Yeah" #annawintour

— Conde Elevator (@CondeElevator) August 7, 2011
And while these tweets are probably the most hilarious (and honest) things we've heard about the Condé Nast offices, not everybody was particularly thrilled with the insider approach to comedy. Bans ended the account in August 2011 after pressure from bosses and executives.
Girl or Guy #1 : This got really crazy. Love my job. Better stop. #sorry

— Conde Elevator (@CondeElevator) August 11, 2011
But now, two years later, she's broken the silence and we're pretty happy about it. After all we could never fault her for giving us a firsthand look into the world of Condé Nast. In her total run as "the elevator" (which was less than a week), Bans gained over 75,000 followers and inspired numerous copy-cat accounts. Representatives from GQ claim they had no idea the former editor was the person behind it all. Bans left the publication a month ago to pursue a career in screenwriting—we can only hope that soon we'll see some tweeted conversations from the Hollywood back lots.
Link –