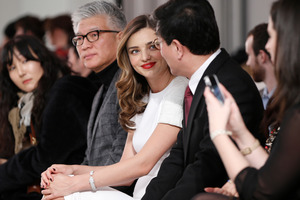 Supermodel Miranda Kerr, center, sits with Korean business executives at New York fashion week. Photo / AP
New York Fashion Week explodes onto a snowy Manhattan, kicking off the northern autumn/winter 2014 season with a new look and 300 catwalk presentations before the industry shows head to Europe.
The week-long festival of glamour, style and celebrity endorsement will see frenzied fashionistas strut across the city, squeezing in back-to-back shows from morning until night.
Dominated by big US designers led by Marc Jacobs and Alexander Wang, emerging talent from Europe, Asia and for the first time, Australia, will snip at the sidelines hoping for their big break.
Despite concerns about the weather, tens of thousands of visitors are expected to descend on New York for what is the first fashion week of the year, hotly followed by London, Paris and Milan.
A blast of snow and freezing rain forced the cancellation of around 1300 flights in New York on Wednesday and forecasters warn that another winter storm could strike at the weekend.
The opening show will be Nicholas K, followed by BCBG Max Azria and Tadashi Shoji on the first day, before a long weekend unfolds with stars such as Wang, Jason Wu and Diane von Furstenberg.
The main venue, tents at the Lincoln Centre on the Upper West Side, has been redesigned and a special space has been set up for young designers.
Wang has made waves by sending the high priestesses of Manhattan kicking and screaming in becoming the first big name to decamp his collection across the East River to Brooklyn.
The creative director of Balenciaga will unveil his hotly anticipated collection at the Duggal Greenhouse - also host to Lady Gaga's recent album launch - at the Brooklyn Naval Yard.
The most coveted event is Marc Jacobs, unveiling his first collection since leaving Louis Vuitton to concentrate on floating his own brand, tipped by some for the billion-dollar leagues.
The much loved New York designer with a flair for showmanship will provide Fashion Week's grand finale show on February 13.
Fashion Week also offers celebrations for Furstenberg, marking 40 years of her wrap dress, copies of which have become a style staple for millions of women and Donna Karan's 30-year brand.
"New York City is the epicentre of fashion," Furstenberg said, promising "something special" to celebrate the 40th anniversary of the wrap dress.
For many, secrecy is the name of the game. But US designer Tommy Hilfiger offered a little insight into his northern autumn 2014 collection that he says will fuse all-American prep with British heritage.
"Iconic tweeds and tartans mix with sporty downs and nylons," he wrote on a blog on the Huffington Post.
"The look is youthful and cool... the hiker girl is the new biker girl."
There will be more shows than ever in 2014 that will be streamed online to reach a wider audience than 2013's estimated 3.7 million viewers scattered across 173 countries.
It is also the first fashion week since New York tightened the law protecting child models in an industry that has courted controversy for eating disorders, racism and sexual harassment.
- AFP