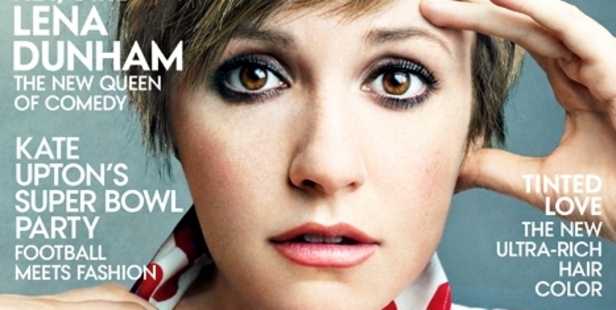 Several pictures of Lena Dunham, including the cover shot, were photoshopped.
The innovative American writer, director and performer Lena Dunham, the creator of Girls and a totemic figure for a generation of young women, has defended herself against claims that a Vogue cover shoot has betrayed her feminist credentials.
Dunham, 27, is known for the nude appearances she makes on her acclaimed HBO show.
Her tattooed body is neither honed nor thin like most of the women shown on television, in cinema or in magazine shoots, so the revelation that Vogue has printed doctored images of her, taken by Annie Leibovitz, has caused reproach.
The photoshopped pictures present a glamorised and slimmed down version of the star.
Dunham, who was in London last week for the launch of her third series of Girls, initially shrugged off the attack, mounted on the feminist blog site Jezebel.
But later she said: "I understand that for people there is a contradiction between what I do and being on the cover of Vogue; but frankly I don't know what the photoshopping situation is, I can't look at myself really objectively in that way," she told online magazine Slate.
Jezebel, who offered US$10,000 ($12,000) to anyone who could provide the original un-altered Vogue images, said the neckline of Dunham's gown was changed and her face, chin and hips trimmed.
Another shot, taken on the street, appears to have been put together like a collage.
The cover image, a head and shoulders shot, has been altered to increase the proportional size of Dunham's eyes. The actor, who plays Hannah Horvath in the bleakly comic series about disillusionment and friendship in New York, said she had felt supported by the Vogue team.
"I never felt bullied into anything; I felt happy because they dressed me and styled me in a way that really reflects who I am.
"I haven't been keeping track of all the reactions, but I know some people have been very angry about the cover and that confuses me a little.
"I don't understand why, photoshop or no, having a woman who is different than the typical Vogue cover girl could be a bad thing."
A Jezebel editorial applauded her representation of "normal" women on Girls, but remained critical. "What is not a good thing is when the magazine decides to take that woman and tweak her appearance enough such that she's 'acceptable' for the cover." "A fashion magazine is like a beautiful fantasy," Dunham told Slate.
"Vogue isn't the place that we go to look at realistic women, Vogue is the place we go to look at beautiful clothes and fancy places and escapism, and so I feel like if the story reflects me ... If they want to see what I really look like, go watch the show that I make every single week."
- Observer