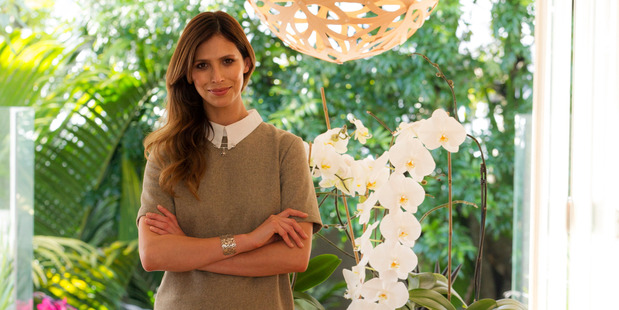 Former model Grace Barcelos Owen. Photo / Michael Craig
Her role as top model has allowed Grace Barcelos Owen to achieve a long-held dream, writes Rachel Grunwell
Grace Barcelos Owen's face will be well-known to many even if her name is not. The Auckland-based top model has appeared in television commercials, magazine spreads and on billboards for high-end fashion publications and advertising clients such as Farmers and now as the face of skincare brand Evolu. For the past seven years she has also been working towards a new career as a psychologist and is set to graduate early next year. Her story is inspiring.
Barcelos Owen's life as a model began like a scene from a movie. When she was 19, a Kiwi model scout spotted Barcelos Owen in a mall in Brazil, and asked if she'd consider moving to New Zealand to model.
Barcelos Owen admits she was a bit cynical about the offer, and the industry at first, but she loved fashion and travelling and decided to give it a go, arriving in New Zealand in 2001. Initially she found modelling tough. She was inexperienced and had to learn how to handle rejection and to rationalise that clients wanted a certain look for jobs and not to take it personally when she didn't fit a brief.
She also had to master the English language. But over time Grace became highly sought-after and began travelling the world, wearing exclusive labels such as Gucci, Christian Dior, Salvatore Ferragamo and Swarovski, as well as New Zealand designer labels.
62 Models agent Andrea Plowright says Barcelos Owen has the rare ability to pull off lots of looks including commercial, high fashion, girl-next-door through to sophisticated sexy. "She can sell to the masses". But she's got personality, too, and clients "love her".
Barcelos Owen grew to love modelling and describes it as "a very rich life experience".
She loves the beautiful clothes, but more so working with "creative talents", who are often from different cultural backgrounds, who speak different languages, have different values and beliefs and have interesting life stories to share.
But deep down, this cover girl had a long-held dream to become a therapist and to help others. She was inspired to do this from age 17 when she saw a therapist to help her cope with her parents' separation. This woman remains a beloved friend, mentor and someone whom Barcelos Owen admires.
But it was not until after five years' modelling full-time that she followed her heart.
"One day, after being in Europe modelling for a few months, I came back to New Zealand and decided that it was time to start walking the path that was going to lead me to achieve what I wanted, so I enrolled in a BA (extended major in psychology)," she says.
It was an "easy" decision - "I knew what I wanted" - but studying and juggling part-time modelling was not easy. She struggled at first with the written English language, even though her listening and speaking skills were good.
"I knew it wasn't going to be easy but I also knew that no one else was going to be able to achieve my dream for me. So I worked hard ... really hard ... and every time I became overwhelmed I reminded myself that this was my choice, this was a part of this journey and tried to see the positive side of things as, how lucky am I that I am learning another language while studying something that I really enjoyed."
Friends and family helped. They gave encouragement, made her cups of tea or the odd meal and sent texts of support around exam times. Sometimes fellow students recorded classes for her so she could listen to them later (often while having her hair and makeup done on photo shoots). Or they offered to proofread assignments or kindly drop her voice-recorder to her at university if she'd been held up working. And when her exams were close, she had to sometimes turn down work in exotic and exciting locations because her priority was to pass exams. At times her modelling agents rescheduled work if she was struggling to finish assignments.
"Having the support of the people who love you and believe in your potential is crucial," she says. "I certainly would not be where I am now without that support. Every little bit of help made a difference."
"When you are in a long journey like mine (six to seven years studying to see the end result), it felt like sometimes faith would disappear on me when I most needed it. But when it happened, I always took the opportunity to check with myself where I was at, what I wanted, what had made me lose faith in myself, and where and how I was going to be able to find balance again. It was like those moments existed so I could learn more about myself and to re-focus.
"As a result, I think I have become less anxious, developed a greater sense of self and have learned how to take baby steps, day by day."
One of the toughest times to stay on track with her studies was when her husband died suddenly last year. Craig Owen was a fashion and advertising photographer who worked with the likes of Elle Macpherson, Miranda Kerr and Anna Paquin. He was remembered at his funeral as a man of great talent, depth and soul.
She describes the incredible sadness."My husband's passing away last year turned my life upside down. All of a sudden my dream was surrounded by turmoil ...
"But there was nothing, absolutely nothing I could have done to change the situation apart from embracing the love from my friends and family and to refocus on my work and studies. This brought back some structure and routine into my life and gave me the strength to continue with my journey," says Barcelos Owen.
Barcelos Owen has completed a BA, Postgraduate Diploma in Science, a Masters of Science in Health Psychology and currently she is completing a Postgraduate Diploma in Counselling Psychology. She's working as an intern psychologist and in on-track to be fully qualified by March. She's helped people dealing with autism, addictions, health-related and relationship issues.
"I feel that I have made the best decision ever as I absolutely love what I do," she says.
Barcelos Owen feels honoured to be trusted by these clients and she endeavours to help them in a non-judgmental, open, respectful and understanding way.
She believes modelling and counselling have common ground. Both are about helping people to feel good. Modelling does this through clothes and fashion and she believes this can genuinely lift a person's mood; while therapy helps through thoughtful words and insight.
Barcelos Owen says she is lucky to be able to continue both passions, working full-time as a therapist and modelling part-time. When she graduates next year it will be her hardest-fought triumph.
As she takes to the stage to graduate, her mother's words to her as a child will be remembered. "What comes easily, goes away easily. You must work hard and be focused, Grace, otherwise things will not have the same value in life."
Barcelos Owen says this quote made her appreciate the time and energy needed for things "and how much satisfaction and pride we can achieve when we begin to realise that all the hard work is coming alive. And how powerful, exciting, special, meaningful, and magical it is when we start seeing our dreams come true. There are no words to express how this makes me feel".
Goal-setting tips:
• Be specific - ask what do I want to accomplish?
• Make sure your goal is realistic and relevant.
• Be aware that one of the biggest obstacles is usually ourselves.
• Plan time frames and set small steps along the way. "I used to get overwhelmed if I thought about the number of years I had ahead of me. Thus, to help me with that, I set my goals focusing on day-to-day basis and tried not to look too far".
• Learn how to prioritise, plus manage stress, what triggers it and what helps to alleviate it. Cooking helps Barcelos Owen.
• Take care of yourself. Plan walks, baths, massages. Barcelos Owen loves yoga and mediation.
• Do what makes you happy. Research shows happy people are likely to be successful.
• Accept that some things are out of your control and all you can do is your best.
• Realise dreams can be hard to reach, but are worth the effort.