Mar. 20th, 2014 | Comments 0 | Make a Comment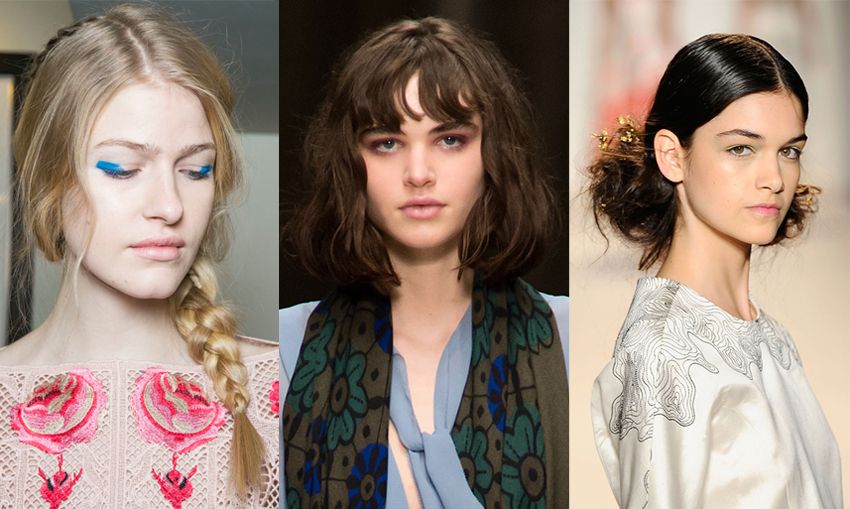 Today marks the first day of spring. Say goodbye to the polar vortex of your past and hello to the sunny days ahead. Long dreamy afternoons spent lounging beachside can only be ruined by a bad hair day (that and running out of rum for the piña coladas), so we're here to help nip those issues in the bud. Chances are your hair is suffering from the thrashing it received over the winter, and we're willing to bet those hair masks and deep conditioning treatments you swore up and down you would use, haven't been touched (it's okay we neglected our strands too). But before we hit summer and try to coax our hair into those sexy beach waves we can never quite achieve, we still have some time to whip our hair into shape. Using double duty products that both nourish and style, we're going to be rocking some of the hottest runway hairstyles for spring, all while improving our strands. Better grab a hairbrush—we're about to get crazy.
Photo Courtesy of Moroccanoil
Temperly London
Braids aren't going anywhere—ever—but instead of the chic knots that we've been working into our hair all winter, it's time to let them go just a little wild. Make a loose crown, intertwine dual braids or opt for a soft fishtail. To achieve the double, unkempt braids like the models at Temperly London, add a root boost to wet hair; try Moroccanoil's Volumizing Mousse which adds body and infuses strands with hydrating Moroccan oil. Dry hair on a low temperature setting, then curl small pieces at the front for definition around the face, and at the ends for a little movement. Create a middle or side part (whichever you prefer) and take a piece from both the top and back, braiding them individually until they meet in a low, loose braid. Pull shorter bangs or small strands free for a more romantic look; you can always add a brightly colored hairband for a touch of spring.
Photo Courtesy of Lela Rose
Lela Rose
Any 'do that has either a high-shine or wet look is going to be a huge opportunity to condition those strands! Use a deep conditioner instead of a gel to keep wet styles looking wet—it will give your hair the opportunity to really soak up the vitamins and keep your locks looking shiny and healthy instead of stiff. To grab the Lela Rose runway look blowdry hair straight, paying close attention to the top of the head; using a hair oil or light conditioner coat the tops of strands to keep everything in place. For this particular style we love pairing a little leave-in conditioner with Sisley-Paris' Phyto Hair and Scalp Extract which is formulated specifically to target scalp health and foster hair growth. Run any excess product down to the ends which are most prone to dryness and breakage. Pull the hair into a low ponytail and add a touch of texturizing spray; tease the ends and roll the hair up, pinning into a wide roll at the base of the head. Ruffle the large barrel curl to give it a little fluff and feel free to add the gold flakes if you really want to go all out.
Photo Courtesy of Burberry
Burberry
The prospect of leaving your hair down to do its own thing might be a little—well—frightening. What our natural strands might look like sans curling irons, flat irons and a pound of product could leave anyone in a beauty-induced panic attack. But don't freak out, it's only going to look like it was natural. To get the casual, tousled look from the Burberry runway start with damp hair and add your favorite beach spray to give your locks some casual waves. Scrunch hair from the bottom up, working fingers through to the crown to give your style more body. Blow dry hair with a diffuser while continuously pushing hair up to create a light curl. Add a light serum to give your style a little smoothness and softness (we don't want our hair to feel like we've been surfing all day); we love Fekkai's PRX Reparatives Mending Elixir, which not only repairs dry winter hair, but also controls flyaways. Leaving hair intentional messy (but not frizzy!) is the key to pulling off this cool-girl look.
Photo Courtesy of Moroccanoil
3.1 Philip Lim
Sometimes we'll let our hair go, hoping against all hope that it will air dry into perfection—which, of course, never happens. Instead we're left with a bedhead mane that looks like we've just been mauled by a tiger—but that can be a good thing. It sounds kind of crazy, but hear us out. All that big unkempt hair was a hit on the runways and we loved the look of the models at 3.1 Phillip Lim. To prep our strands so they only look messy, start with an intense moisturizing wash. We love Philip B's Imperial Amber Shampoo and Conditioner which leaves hair soft and smooth, resisting that gritty dry feeling of winter. Depending on your hair type you might need a little root boost to add volume and texture to your strands. Let your hair air dry and pull hair upwards and back, away from the face, pinning pieces into haphazard waves. This deconstructed look is perfect as we make our way into warmer weather and lose some of the harsh lines of our winter wardrobes.
Photos Courtesy of Mia Beauty
Honor
Floral hairstyles were all over the runway for spring from accessories to dresses; and as gorgeous as a halo of sun-kissed daisies might sound—it's just not practical. You'll look more like a Disney princess than a style maven. But a toned-down version can be fun and playful as we move into the warmer weather of spring. To pull off the Honor floral runway look, blow dry hair straight, curling the end with a large–barrel curling iron. Use a volumizing spray like Show Beauty's Lux Volume Lotion which adds boost and hold, but also protects against free radicals and reduces split ends. Pull strands into a ponytail at the nape of the neck, and push hair forward slightly near the crown to add height. Add small adornments like Mia Beauty's mini silver flowers or if you're feeling bold opt for some slightly larger floral accessories.

Link to article –