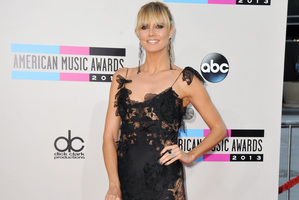 Heidi Klum has reflected on her modelling career. Photo / Jordan Strauss, AP
German-born model Heidi Klum has revealed that she has no plans to strut her stuff on the Victoria's Secret runway ever again.
The 40-year-old beauty told Access Hollywood: "I wouldn't model with my underwear down the runway anymore," she said. "I think that would feel a little uncomfortable."
Klum said since celebrating her 40th birthday in June she was forced to reflect on her age and what that meant for her career.
"I still do photoshoots for (magazine) covers and different things or advertising stuff," she said.
She also said she had no plans for cosmetic surgery, admitting she was "too scared" to go under the knife.
"I'm scared that all of a sudden you're changing too much, your face starts changing."
However, the mother-of-four is still happy to share her bangin' body on the internet. Klum recently shared a topless snap of herself hugging a palm tree on Twitter and Instagram account indicates she's a fan of the scantly clad selfie.
- www.nzherald.co.nz