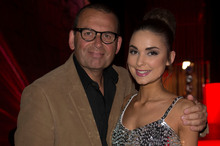 He has a reputation as a ladies man - but last night Paul Henry had eyes only for his daughter Sophie Hopes as she competed in the Miss Universe NZ final.
Henry, 53, accompanied along the "purple carpet" ahead of the glitzy event at SkyCity Theatre.
Hopes, 23, failed to make the final five and watched on as Holly Michelle Cassidy took the tiara ahead of first runner up Kylee Tan. Second runner up was Deborah Lambie.
Cassidy will represent New Zealand in the Miss Universe contest in Russia on November 9.