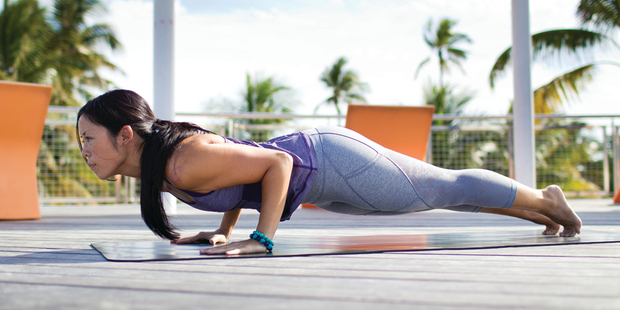 Active wear has become a fashion statement. Photo / Lululemon
So long, dingy sweatpants.
Workout clothes for women, once relegated to the back of the closet, are moving to the front of the fashion scene.
Yoga pants are the new jeans, neon sports bras have become the "it" accessory and long athletic socks are hipper than high heels.
"I've actually had more excitement buying workout gear than normal jeans and dresses," says Amanda Kleinhenz, 27, who wears workout gear both in and outside of the gym.
"I want to look good."
Blame it on the push toward a more active lifestyle. Or call it an extension of the fascination with fashion. Either way, these days jogging suits are just as likely to be seen on a runway in New York as a treadmill in Takapuna.
In fact, sales of workout gear are growing faster than sales of everyday clothing - by a lot. Spending on workout clothes jumped 7 per cent to US$31.6 billion during the 12-month period that ended in August from the same period a year ago.
That compares with a 1 per cent rise in spending for other clothing to about $169.2 billion.
But these aren't cheap cotton T-shirts and spandex jumpsuits. Top designers like Calvin Klein, Stella McCartney and Alexander Wang all rolled out fitness chic clothing lines, with everything from $50 leggings to $125 zip-front hoodies and $225 long john sweatpants. And big nationwide retailers like Gap, Forever 21, Victoria Secret and Macy's have fitness lines, too.
"Active has become an important part of what customers are wearing," says Karen Hoguet, chief financial officer at Macy's, which is expanding its active wear label to 400 stores from 160.
"Sometimes it's for athletic endeavors. Sometimes it's just to run errands."
This is the latest evolution in fitness fashion. Sweatpants and tees were the hallmark of athletic clothing for decades. That changed with the invention of spandex in 1959, then again with the aerobics craze of the 1980s when tights, leotards, legwarmers and nylon track suits became popular.
Athletic gear giants like Nike, Reebok and Adidas were popular for years as synthetic material like Gore Tex and Lyrcra gained popularity because of their performance qualities. Then, in the late 1990s, it became cool to wear workout clothes everywhere after the Lululemon athletic chain opened and gained a loyal following of fitness
enthusiasts willing to shell out $100 for yoga pants.
Read more: Lululemon apologises for insulting women
Annie Georgia Greenberg, a New York editor for style blog Refinery29, says she noticed the trend at the New York Fashion week in September as more people were choosing shoes like the neon Nike Free Flyknit over designer pumps. Greenberg herself paired a Gold's Gym t-shirt and Adidas Samba sneakers with a two-piece bejeweled suit - something she wouldn't have done a couple years ago.

Greenberg teams a Gold's Gym tank with a glam skirt.
"It is almost cooler to be comfortable and athletic and feel like yourself than to be overly glam," Greenberg says.
Fitness chic also sends a message to others that you are living a healthy lifestyle, says Noreen Naroo, senior creative director for apparel at fitness brand Under Armour. Recently, Naroo did a mile run at her daughter's elementary school with leggings, a sports bra, t-shirt and sneakers. She changed from her sneakers into boots to go to work.
"This is exactly what women are doing - running between work and play," Naroo says.
Nike says that's one reason its women's business has added $1 billion in revenue since fiscal 2010 to reach $4 billion in fiscal 2013. It's been fueled in part by demand for fashionable workout gear like its leggings with compression technology that is made to be flattering. Another hit has been its "tights of the moment," limited edition running tights with geometric or neon prints.
And to capitalise on the popularity of classes like Barre and Pilates in which people usually go barefoot, Nike says it created a lightweight foot wrap called the Studio Wrap which helps with hygiene and slippage, but also looks stylish. "Women don't want to compromise performance or style," says Heidi O'Neill, Nike's vice president and general manager of women's training.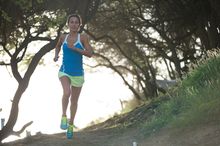 CrossFit, a high intensity group training program, also has inspired fitness chic with brightly colored knee-high socks, colorful tanks and accessories like headbands and compression arm bands. "We're seeing fitness become a fashion look," said Chris Froio, vice president of fitness and training at Reebok, which sponsors the CrossFit Games.
Danielle Duffy, 31, wears CrossFit t-shirts and sparkly silver headbands or customised pink-and-purple Reebok shoes both in the gym and out hanging out with pals.
"Sometimes we'll dress up in normal clothing ... but mostly we're the sweaty girls in CrossFit clothes hanging out in a bar," says Duffy.
"We own it and we're going to be those people."
- AP