Posted: Nov. 13th, 2012 | Comments 0 | Make a Comment
Photo Courtesy of Hikmatullah/Feminagroup
Many young people dream of becoming a model for various reasons— from having the opportunity to travel, to getting the star treatment, to wearing luxury brands— all while becoming noticed in the world of luxury fashion. But while the career may look like a ton of glamorous perks and pampering, there's actually a lot of hard work that goes into becoming a fashion model. If you think you've got what it takes, read on to find out exactly what kinds of preparations you should make to break into the biz.
Do Your Research
Before you go running into your nearest modeling agency, take some to sit down at your computer and do some good, quality research. The first thing you should do is take a good look the agencies you're interested in— and if you're looking at smaller ones, make sure they're legitimate, respected agencies in the industry. Flip through some editorials in high fashion magazines or catalogues and find out what agencies your favorite models are signed at. Top models like Lindsey Wixson, the world's biggest rising star, got their start by hitting the books and learning the ropes before approaching the top dogs. "I remember studying old copies of Vogue and looking at how big models like Gisele, Christy and Kate had got to where they had," she said in an interview with Vogue in May 2011. "I broke it down, and tried to work out the route each had taken, and then tried to see how I could do the same." Photo Courtesy of Lindsey Wixson
You might even dig a little deeper and try to find out exactly what it is your preferred agencies are looking for in their next models. Most require runway and high fashion models to be 5'8 to 6'0 tall and between the ages of 16 to 25, but if you're interested in plus size, mature, or catalogue, measurement requirements will obviously be different— so it's important to dig deep and find out exactly what it is these agencies are looking for.
Be Prepared
When I say be prepared, that means brace yourself for a number of things. If you know that you have a lot to learn about the fashion and modeling worlds, it might be smart to invest in modeling classes. Taking lessons will teach you much more than just walking and posing, they will also teach you about the basic necessities that most aspiring models usually forget about: knowing designers, photographers, and the history of fashion are extremely important factors when trying to break into the industry. Imagine applying for a job at a law firm and not knowing the name of its partners. Being uneducated about the names of renowned potential clients and coworkers would be devastating to your chances in moving forward in modeling. Photo Courtesy of Frazer Harrison/Getty Images for Mercedes-Benz
Another part of being prepared is being ready to hear "no" from a number of people. Hilary Billings, a former high fashion model, explains that while most aspiring models think that they'll be booking jobs left and right once they get an agent, the real battle begins after being signed. Be ready to attend a number of auditions, go-sees and cattle calls, but know ahead of time that you can't please everybody. "You're going to be told by all sorts of casting directors that you're not right," says Billings, who has been featured in magazines like Italian Elle. "Rejection is all part of the process, but try not to take it personally. Remember, they're just saying that you're not right for their product, not that you're not beautiful."
Put Together a Well-Rounded Portfolio
Like any job you'd apply for, you're expected to have a resume on hand when visiting an agency, go-see or audition— but in the modeling world, your resume is your portfolio, or your "book." It's important to have a book that displays variety in your photos— but for potential models just starting to get into the business, don't worry if you don't have a handful of professional shots on hand. Most potential clients will actually prefer you to have natural and fresh looking photos— many will even take a Polaroid upon your arrival.
Bill Staniford is the CEO of a new website called Model Launcher that assists models in breaking into the fashion industry. Stanifrod explains, "A well-rounded portfolio will include a black and white, a shot with very little makeup, a shot that is high fashion and a shot that can be deemed as fun and commercial." And don't forget to include a comp card, which should have all your measurements, height, weight, age, hair color, eye color, and shoe size. Photo Courtesy of iStockphoto/Thinkstock
Book an Appointment with An Agency
After you've done your research and feel like you're ready to strut your stuff for a potential agent, plan a meeting with them. This is what you've been waiting for, now resist the urge to tweak your appearance and wardrobe in an attempt to "impress" at your audition. While it can be hard to not get wrapped up in appearances in an industry like this one, agencies and clients are really interested in quirks and imperfections that make for a unique look.
Angela Paul, model and author of The Beauty of Aging, suggests showing up to your audition looking as natural as possible. "That means very little makeup, clean hair and simple jeans and a t-shirt," she says, noting that it's a good idea for long-haired beauties to bring a hair tie with them in case the agent wishes to see your hair up. While not getting totally done-up before going to an audition may sound obvious, don't forget to keep your wardrobe simple, too. You wouldn't want your clothing to take attention away from your figure or your face, so simple but body-conscious options are best. Photo Courtesy of Irvan Arryawan/Feminagroup
Know Your Market
One very encouraging thing about the modeling world these days is that it's an evolving industry that no longer puts strict limits on the age and measurement requirements of aspiring models. "There are modeling gigs available for every body type, look and personality," says Billings. While the industry is changing, it's a slow change, so don't be discouraged about being type-cast into a category like high fashion, commercial, promotional, or plus. "Know which one you fit best into so that you can use your time efficiently," Billings suggests.
Furthermore, once you discover your strengths, use them to your advantage. "Models now need to promote themselves, think like businesswomen and diversify their careers by doing other things," top model and entrepreneur Tyra Banks has said. "Chances are very slim that a mere model will become a household name today." And because the average modeling career lasts just a few years, we suggest continuing to pursue education and other interests. It's important to develop and improve yourself in other areas outside of the industry, and having talents and other interests always makes for a more attractive modeling candidate. Photo Courtesy of David De Lossy/Photodisc/Thinkstock
You might like :

The Luxurious Life of Today's Top Earning Models
Related Topics : Models, Women Fashion, Runway, Fashion News
related articles
advertisement

Scottsdale, AZ

Napa Valley, CA

November 10, 2012 | Bal Harbour, FL

Sanabis, Bahrain

November 12-15 2012 | Boston, MA

November 11th, 2012 | New York, NY

Los Angeles, CA

San Francisco, CA

Vancouver, BC

New York, NY

Richmond, VA

Brisbane, Australia

Finding the best in luxury can be a daunting task, which is why we've taken it on for you.

advertisement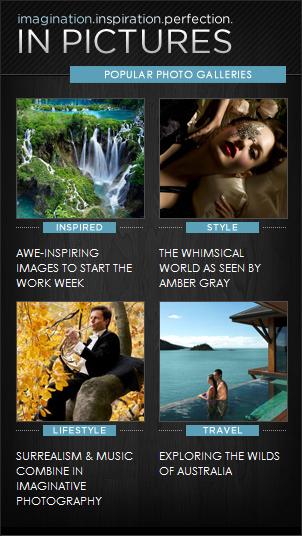 Read original article: