You feel better when you look cute - that's a fact according to Sam Pease. In this extract from her new book about her weight loss journey, Sam shares tips to help larger ladies embrace their curves while they shed the kilos.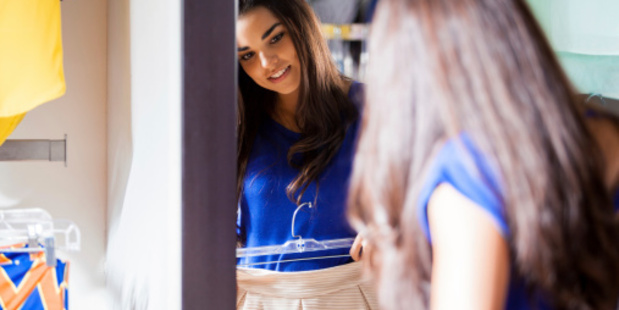 When you're looking good you feel more confident about yourself. Photo / Thinkstock
Lost your strut?
When I was younger I used to strut. Not intentionally, but I never went anywhere without a handbag o' swag and my high-heeled boots o' steel. Once I became a mum - well, I became a little more reserved. Instead of sweeping into rooms and parties, I'd apologetically slink in ... I was stuck in a rut so I lost my strut.
We need to look good. Yes, yes, everyone always says that beauty is on the inside, but let's be real ... we live in a world where looking good equates with feeling good. This doesn't make me shallow; it makes me realistic and a little proud and vain - which is not a bad thing (especially when I was so down on myself a few years ago). But we need to be clear about the kinds of things that can make us look good. Every day we're bombarded with hundreds of images and ideas on how to better ourselves and improve what's already there. Some of them are deeply unhelpful.
Personally I hate body-slimming garments - I think they pander to the misconception that we're not good enough unless our entire body is wrapped in a sausage skin.
The tips and tricks in this book will mean you don't have to cover yourself in shrink-wrap before you leave the house.
So start making an effort. It's that simple. If you're at home, make an effort. If you're leaving the house, make an effort. This way, every time you pass a shop window you won't be scared by your reflection.
Speaking of shop windows - you'll need to spend some time in front of them to fulfil your commitment to this chapter. This isn't about going into debt, though - I'm the Queen of Little Budget Glamour.
The cover of Sam Pease' new book about how to shed kilos. Photo / Random House
WIN! We've got three copies of Sam Pease new book, Eat Less Crap, Lose That Fat, to give away. Enter below.
Embrace
Find the one part of your body that doesn't make you sad, and accentuate it with clothing. There is at least one. For me it has always been my eyes: no matter how fat I got, my eyes stayed slim. If it's your boobs - hoist 'em up and get 'em out.
Dresses look good on everybody; but you need to find a style that suits you - there will be at least one shape that works beautifully. Shirt dresses, maxi dresses with horizontal panelling, empire-waist, V-neck, shift, belted - there are loads of types made for plus-sizes. If the dress looks amazing on, and makes you grin from ear to ear, then buy it in different colours. Start wearing it. Even if you're running errands. If you slop around in baggy sweats, there is no incentive to fit into anything more form-fitting.
Length-wise, just above the knee is always the most flattering; mid-calf and ankle-length dresses can be drab unless you're tall and svelte. Be careful with super-short . . . it's rarely a good look if you're larger-than-life.
Start dressing up and you'll start encouraging weight loss, simply so you can take advantage of other beautiful clothing.
Properly fitted underwear is crucial. There's nothing more unattractive than bingo wings and bulges plotting an escape from the bra-prison, or a visible panty line cutting your bottom into quarters. Get fitted for a bra. All underwear stores, even discount knicker shops in outlet malls, have an expert or two ready with a tape measure. After having a fitting, I discovered I was actually a cup-size larger than I'd been squashing myself into: no wonder I looked like I was smuggling a couple of doughnuts under my arms. Don't be afraid to go up a size in undies; let them fit properly and avoid the embarrassing elastic-marks on your waist and bum.
On the subject of bottoms . . . wearing black trousers or skirts will hide the wobbly bits you don't want to highlight. Save the colour for your upper half.
Remember, even if you're currently 4 or 40 kilos overweight, you can still look sexy - and I don't mean by dressing like a slag. Sex appeal is about highlighting one, two or three things on your face and body in a subtle way. And, yes, cleavage counts!
• This is an extract from Eat Less Crap Lose That Fat, by Sam Pease. Published by Random House, it's available now. RRP $24.99