Posted: Dec. 4th, 2012 | Comments 0 | Make a Comment
Courtesy of George Chinsee/WWD
For celebrities, wearing fur can be an extreme sport with invective-shouting protestors and even the occasional flour bombing (Kim Kardashian). Some unabashedly prefer animal skin, like the Olsens with their $17,000 fur-covered bag designed for their line The Row. No matter what the media sensation of the day, fur is and will remain a luxury fashion item for the affluent during the winter months. For these clients, furrier Adrienne Landau's ready-to-wear line is creative and easy to wear (aside from the occasional red carpet run-ins).
Landau's 2012 fall show was presented in three themes to showcase the flexibility of her garments — wild outdoors, Russian aristocrat, and New York chic. Versatile, the collection includes oversized coats, vests, bottoms, and hats. For some pieces, she designs with full pelts, and for others she combines samples for a patchwork effect. In addition to a wide range of furs – like rabbit, mink, chinchilla, and raccoon — she brought back sable, a material she hasn't used for two decades, for this year's line. Shiny separates and crocodile-embossed leather pants and skirts maximize the glam effect of the furs.
Although mostly in blacks, browns, and whites, there are also vibrantly hued pieces which evidence Adrienne's passion for painting. An oversized, colorful jacket looks like a snippet of a Jackson Pollack canvas with black, white, green, pink, and violet swathes. This cool, rocker chic coat would be best paired with her detailed, black skinny pants. A black and gold striped vest is just as funky, and other coats are dyed in bright red, purple, or green. I imagine the long white vest, like the bulky jackets can be matched to a variety of outfits.
One of the more talked about pieces is Landau's knotted mink which, despite its intricate work, looks a bit shapeless below the collar. And the skirts trimmed with fur tails might be too Morticia Adams for some ladies. However, the fur-wearer should find something to love in the collection as it ranges from street glam to high-end elegance. These aren't estate pelts but a contemporary and colorful twist on animal furs.
Read More on

WWD.com
You might like :

Model Ferraris and Fur Throws from Ralph Lauren's Luxe Holiday Collection
Related Topics : Womens Fashion, Fashion Designers, Runway, Fashion News
related articles
> WIN A TRIP TO TURTLE ISLAND FIJI
A $20,000 LUXURY GETAWAY
advertisement
advertisement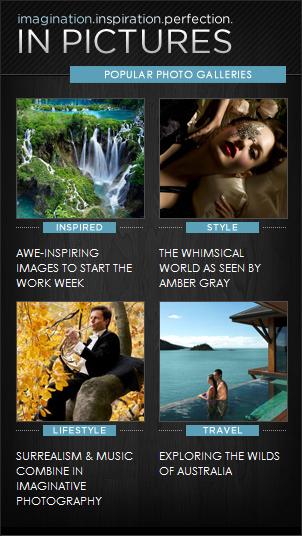 Original article –