Making it doesn't come easy in the changing world of fashion. With her business about to turn 10, designer Juliette Hogan talks to Zoe Walker about her complex relationship with the industry.
Earlier this year, Juliette Hogan threw a party in her new workroom. Unlike most fashion parties it was for breakfast, with 30 friends, media and employees sitting down at two white tables adorned with white flowers and white bowls to talk and eat toasted muesli made by Hogan's father.
She had not yet officially moved in to the 200sq m space, and this was a chance for the 34-year-old fashion designer to show it off before racks of clothes, rolls of fabric and everyday office life took over.
There were clothes, too: models chatted and laughed in the sun, showcasing pieces from Hogan's spring/summer collection, which goes into stores on August 15. They all wore white Converse sneakers, with poker-straight, side-parted hair, lounging about in beautiful organza skirts and shirts, a graphic geometric print and mosaic print on silk, and casual grey marle tees and linen suiting. It was all very effortless and grown up, and indicative of how self assured Hogan has become. But the designer, determined and no-nonsense, with a wicked sense of humour, has a complex love-hate relationship with the industry she has found herself in for the past 10 years.
"I'm interested in my business," she says frankly, "I'm not interested in fashion."


Juliette Hogan's headquarters is on a nondescript street at the city end of Dominion Rd, nestled beside mechanics, textile wholesalers and an auction house. It's a charming open-plan space; light and airy with wooden floors and power points hanging from the ceiling hinting at its former life as a sewing factory.
They moved there in April. The new workroom has changed Hogan's life: she was previously based above her Ponsonby Rd store, a comparatively tiny space where she and her design assistant had to battle over who used the one pattern-cutting table. Racks of garments were crammed into the kitchen. There wasn't much spare room for desks, and no privacy. As the business continued to grow, it was time to look for something bigger.
Hogan gets to work each morning just before 8am, for half an hour of calm before the rest of her small team arrive. On her desk, a trestle table with white painted top, sits her Mac, a large jar of almonds and a white orchid in a white vase; behind her, a large Derek Henderson photo of an empty suburban street, and a collage of images pinned to the wall. Other features of the office, aside from the typical fashion-designer necessities of cutting tables, patterns and rolls of fabric, include two Scandinavian-inspired light-grey couches, a well-burned 2.5kg Jo Malone candle, deer antlers on the wall from a hunting trip and a vase of white lilies on a wooden meeting table.
Hogan is very specific about what she does and doesn't like: white flowers only, no bright colours and no capital letters (she says it's about proportion). That clear aesthetic translates into her collections, which have matured and become more defined in recent seasons. Hogan's clothes aren't obviously sexy, they're not cute and quirky. They're discreet, practical, grown up. They're pieces that can be appreciated by a wide range of women: worn by a 23-year-old to a party, by a 35-year-old to brunch in the weekend, and by a 50-year-old to work. It's clean and minimal, casually elegant yet tomboyish - a loose cardigan thrown over a silk dress, a white T-shirt worn with a maxi skirt, the simplest silk slip dress. Not the ladylike and prim label that seems to have stuck, a leftover from the days when pleats were her signature.
"I don't think it's true to the brand anymore," she says of that ladylike tag. "It's different to how I envisage what I'm doing, but I guess potentially, when people first become aware of the brand, it may have been two or three seasons ago when it was very ladylike and vintage-inspired."

Check out Juliette Hogans summer 2013 fashion film 'Kaleidoscope City'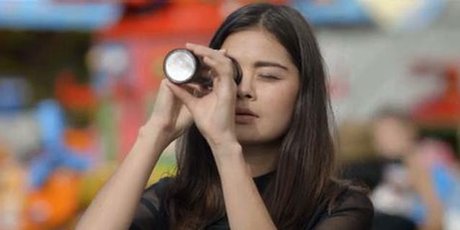 Hogan, who describes herself as a selfish designer, designs for herself so she doesn't have to shop. It's not surprising that the 'Juliette Hogan girl' has matured as she has.
"As I get older, she grows up, and I would not consider myself girly at all any more. It will be interesting to see if in five years time she has grown up even more, if she follows my lifestyle and how I'm socialising and what I need clothes for when I'm socialising. Right now it's all about going out to restaurants and having dinner with friends - and I don't put on a cocktail dress to go out for dinner. Whereas five years ago, I was going to parties, to 31sts, out dancing, and wanting dresses for that."
Today, Hogan is meeting with stylist Rachel Morton, both drinking herbal tea - no coffee in this workroom - and both wearing quilted silk jackets from the recent winter collection.
They're discussing the winter collection for 2014. The plan is to photograph the lookbook and campaign in three weeks. Right now, the collection consists of a few illustrations and fabric swatches and one garment, a collarless silk blouse that is dropped from the collection by the end of the meeting.
Hogan does not especially enjoy this part of the business. Her design process involves self doubt and, in the past, tears. But she is getting better. "I've become a lot better at understanding my emotions," she explains of her growing confidence, "Yesterday was a really bad day for me at work, thinking to myself, 'I don't know why I'm doing this, I don't know what to design, I'm finding it really difficult, my time management is crap, why do I always leave things to the last minute?'
"But then it's like, okay: 'You go through this every season and still produce clothes that people respond to and love, and sales have only grown'. So, even though I'm feeling those emotions, it doesn't mean that they're necessarily true.
"It's about dealing with them, and getting on with it," she says pragmatically. "I've become a lot more understanding of the process that I have to go through. This is what, the 15th or 16th collection that I've designed? And it works. I must be doing something right . . . I must be good at what I do."
She says that awkwardly, but Hogan is proud of the business that she has grown. This year her turnover hit a personal goal, and in the last 12 months her wholesale and retail sales have grown 25 per cent. She opened a second boutique in Auckland's Britomart seven months ago and, compared with 12 to 18 months ago, has doubled the amount of garments produced each season.
"I've been going almost 10 years, and the beginning, it was crap. I made no money. It's not just about making money, but when you're investing all this time and energy into something and you're not getting any return from it, you wonder if you've chosen the right path in life and if you should give it up and do something else."
She credits opening the Ponsonby store in 2007, and more recently Britomart, as formative moments in the business, and buying an apartment in Ponsonby last year as a moment when she felt that all of the time and energy invested in her business had paid off personally. But she is still learning how to balance business with real life.
"I don't work at home. But I dream about it, and it's always in the back of my mind. It's my name, it's my business. I don't have a business partner and I'm fully responsible for it. I still get rung at 5am when the store alarm goes off."
She began running last year, and her love of cooking and baking is well known. Both help her to relax. "I do not know how to sit and do nothing, I'm not that sort of person. I tried doing meditation this year, at the Buddhist Centre. It was awful. All I could think was: 'This is such a waste of time, I could be achieving so much more.' I just don't know how to sit and relax."
She does like yoga, reads a lot, travels, and is big on snowboarding, too. "Snowboarding is one time when I don't think about work. It's good because you're so occupied with not falling over."


Hogan grew up south of Auckland in Karaka, and was taught to sew by her mother, Janet, at the age of 12. She never wanted to be a fashion designer - her childhood aspiration was to be a chef - but her skill on the sewing machine saw her making dresses for friends throughout high school at Rosehill College.
"I don't ever remember desperately wanting to be a fashion designer, it all kind of just fell into place and made sense.
"I grew up in South Auckland. I wasn't exposed to fashion, I didn't grow up reading fashion magazines. I loved making clothes rather than knowing about fashion designers and labels."
Hogan launched her eponymous brand in 2004, and for the first three years ran the business from the family home. She is very close to her family: older sister Katie, younger brother Michael, two nephews and a niece.
Her parents have been hugely influential: those sewing lessons from Mum, and Hogan believes having her father Frank work from home as a barrister influenced her future when it came to running her own business.
"I'm sure that he's part of why I wanted to have my own business, because I grew up with him doing what he wanted to do."
They also keep her grounded. "My family take the piss out of me all the time, the fact that I'm a 'fashion designer'. I'll go out for dinner with Mum and Dad and wear red lipstick and he'll joke, 'What's that on your face? Who do you think you are?'."
Hogan is so unpretentious that she is probably exaggerating a little, but it's an anecdote that shows how important for her it is to separate what she does with who she is. "Fashion is not who I grew up wanting to be."
She admits to sometimes feeling embarrassed about the industry she works in, and worrying about the preconception of fashion designers as shallow - being judged as a tall, thin blonde fashion designer with a shop on Ponsonby Rd.
"That's what I hate - I'm scared that people will presume to know what I'm about, just because of what I do," she says. "It upsets me. There's a lot more depth to me. To me, working in the fashion industry isn't necessarily intellectual. But running a business is."
- VIVA
By Zoe Walker

Email

Zoe