We're ready to claim Ashleigh Good as one of our greatest fashion exports, with the 21-year-old model appearing in the latest campaigns for Chanel and Max Mara.
It has been a rapid rise for Good, who was discovered at an Auckland bus stop just last year and made her modelling debut at Givenchy. She has since appeared on the runway for every major fashion house, including Balenciaga, Celine, Dior, Giorgio Armani, Hermes, Lanvin, Miu Miu, Valentino and Versace.
Watch Ashleigh in Chanel's new video Women Only - spot her about two minutes in.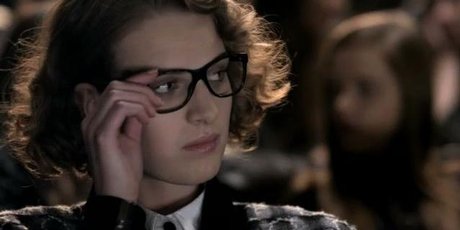 Good, who was born in England but is a New Zealand resident, opened the Max Mara show in February and now appears in the elegant campaign for Fall 2013, photographed by Mario Sorrenti and styled by Carine Roitfeld. The fashion icon and ex-Vogue Paris editor is one of several who are captivated by her strong, androgynous look. Good has also become something of a muse to Karl Lagerfeld, who has chosen her to open and close several Chanel and Fendi shows, and photographed her for the latest Chanel campaign. He told FashionTV, "The new star, the new girl, is a girl called Ashleigh.
She is the new girl, she's genius".
Who's that girl?
Ashleigh Good has gone from waitressing in a North Shore cafe to starring in the latest Chanel campaign. The 21-year-old model talks couture, travel and fun times with Karl Lagerfeld.
• It is always a great day when I work with Karl Lagerfeld. He has a great sense of humour, wealth of knowledge and is amazingly creative. I have a lot of fun and his whole team has become like family to me.
• My favourite labels are Chanel - the craftsmanship of the textiles and patterns are brilliant and the way Karl appeals to every type of person is clever; Fendi, because the richness of colours are really fun; Max Mara, as the cut of the patterns and materials are luxurious and minimal chic; and Dior continues to surprise and delight me with its colours.
• I have kept my own style mostly. I do, however, dress it up a bit and try new things I wouldn't normally. The most important thing for me is to be comfortable.
Day to day, I still wear jeans and a comfortable sweater.
• My closest model friends on the show circuit are Kremi Otashliyska, Lindsey Wixson, Juliana Schurig and Sasha Luss.
• My favourite apps are Viber, Facebook, Instagram and Failblog . . . always good for a laugh.
• My most recent "big" purchase was a ticket for my boyfriend to come and visit me. My next purchases will be a new car, Eres lingerie and sunglasses.
• My favourite places when I'm not working? The Sacre-Coeur is so beautiful; the view of Paris is amazing. In New York, I hang around Soho. Shopping!
• I never wear makeup outside of work. I just keep my skin clean and fresh using Bioderma, La Roche Posay moisturiser and some Chanel lip balm. A good trick is to curl your lashes in the morning, it gives the mascara effect without actually wearing mascara.
• The best beauty tip I have learned backstage: if you do nothing else, cleanse and moisturise.
• I cope with all of the travel I do for shows, shoots and fashion weeks by trying to get as much sleep as I can, talking to my family often, eating properly. It also helps that a lot of my friends are around during fashion week. We have a good time together.
• Right now, I'm listening to Bruno Mars' song When I Was Your Man. I love this song. Although I don't normally like his songs, this one has got me. My sister was so jealous I met him when I first went to New York.
• One of my favourite shows at the couture shows was Chanel. I am totally in love with the jacket I wore for the opening. The venue and atmosphere was amazing. I loved walking in the Elie Saab show too - who can't feel beautiful in one of his dresses?
• The best place I have been for work was Singapore for the Chanel show, in May. I hope I can take my Mum there one day.
- VIVA
By Zoe Walker

Email

Zoe