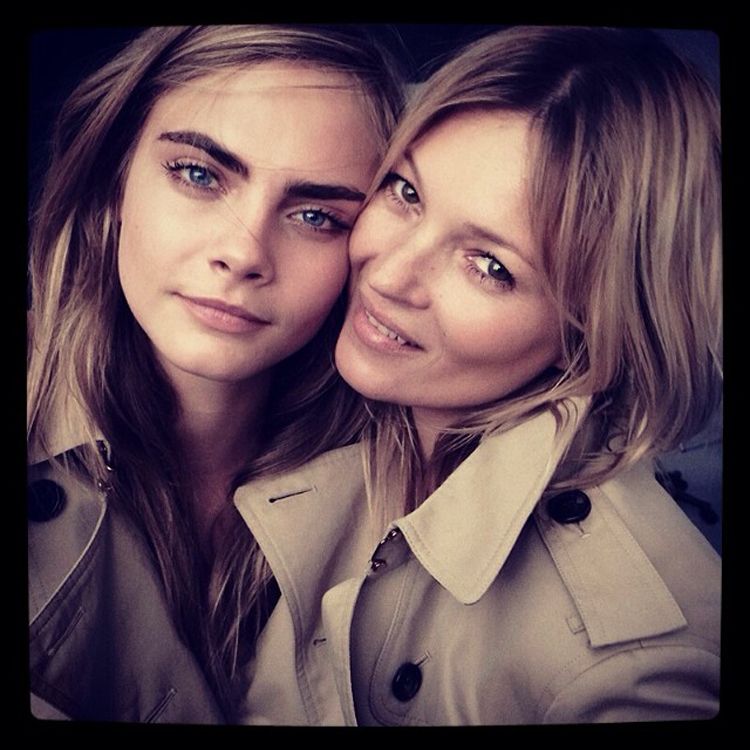 Image Credit Cara Delevingne via Instagram
We can totally pretend like we're not going to go all crazy fan-girl about this recent news, but who are we kidding—we are so excited! Kate Moss and Cara Delevingne are going to be—wait for it—starring in a fashion campaign together. Heading up the campaign for Burberry's newest fragrance—that hasn't even be named yet—the two supermodels are looking picture perfect and totally ready for fall. Despite the fact that we're just gearing up for spring (one more week!), we can't wait until this seasonal perfume debuts just so we can buy it. We don't even care what it smells like—if Cara and Kate rep it, it's going to be amazing.
The editorial images, while not due until fall of this year, have already been shot by Mario Testino and a teaser posted on Instagram. Delevingne uploaded the photo, which shows the two models cheek-to-cheek in classic Burberry trenches, saying "#regram so excited to be doing a new fragrance for @burberry with the beautiful Miss Moss shot by @mariotestino watch this space … #katemoss." We share your excitement Cara. And even without seeing the shoot or knowing the name of the fragrance, we've already decided this is our favorite campaign of 2014.
Credit: