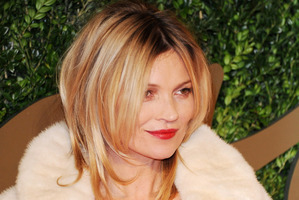 Supermodel Kate Moss was signed by Storm as a teenager. Photo / Getty
The step-sister of supermodel Kate Moss has been signed up to Storm Model management.
The blonde hair and blue eyes of Lottie Moss were spotted when she was a bridesmaid at Kate's 2011 wedding, however she was 13 at the time and limited to a test shoot with the agency.
Today, Lottie turned 16 and announced on Twitter that she'd inked a deal with the same agency that guided her sister's stellar career since she was spotted by founder Sarah Doukas in JKF airport aged 14.
The portfolio on Storm's 'new faces' section features 13 black and white photographs and lists Lottie's height at 5'5'' - an each smaller than Kate - a petite model.
- www.nzherald.co.nz