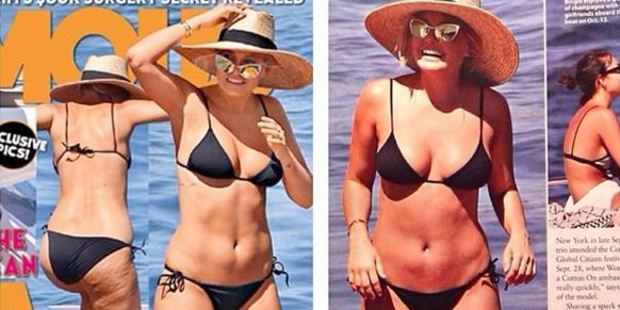 Lara Bingle has lashed out over bikini shots used by an Australian glossy mag. Photo / Instagram
Aussie model Lara Bingle has lashed out at a gossip magazine, claiming it digitally altered photos of her at the beach to add cellulite to her bikini body.
Bingle posted the cover of the latest edition of Famous magazine on Instagram. Next it it she attached the same bikini-clad shot which featured in rival gossip mag, Who, sans-cellulite about a month ago.
She added the caption: "Perpetuating self doubt in all women in the name of making a quick buck. Sickening. Same day different magazine. YOU ARE A DISGRACE FAMOUS MAGAZINE".
Bingle's fury hasn't calmed today and she seems to be winning the Twitter war against the weekly publication, @FAMOUSweekly.
.
The magazine reportedly responded on Twitter at 11.55pm last night, saying: "The images are not photoshopped" and two hours later: "Our pics are legit. No photoshop".
However, it appears the Tweets had been deleted by this morning.
- www.nzherald.co.nz