Home >

Fashion >

Womens Style >

Lovely Lingerie: The Best Underpinnings For a Romantic Valentine's Day
Feb. 4th, 2014 | Comments 0 | Make a Comment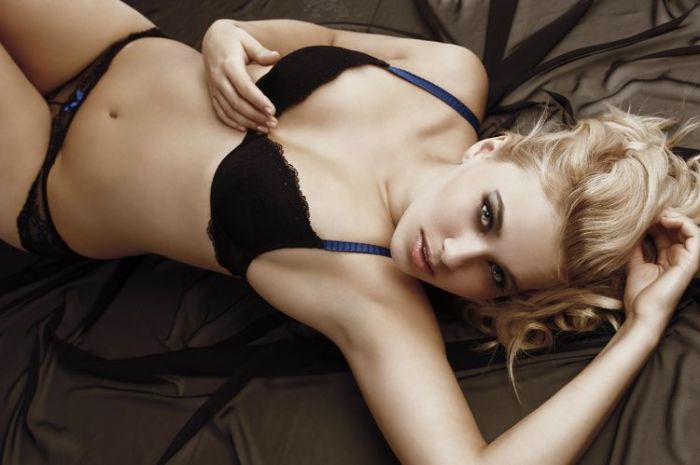 Photo Courtesy of Shutterstock
February is the month for love. Red roses, heart-shaped chocolates and frilly underpinnings are must haves for Valentine's Day; and while we love a good box of sugary treats, nothing says amour quite like a lacey set from our favorite lingerie brand. Moving away from the everyday panties and bras that are only sexy because, well, you're in your underwear—we sought out only the sexiest, sultriest designs. We sifted through the good, the bad and the downright wild to pull only the best, most luxurious lingerie we could find. Valentine's might be only one night, but with these pieces you can make the romance last all year.
Photo Courtesy of Bordelle
We're big believers in wearing a color because it suits you—not because it's the novelty shade of the holiday. That being said there's not a lot of red and pink in our list, but there are some devilishly brilliant colors and designs like Bordelle's Valina Bodysuit. In ochre and black, it features Grosgrain bows, silk and French Leavers lace, and 18kt gold metalwork. It doesn't get more luxurious than this, and we're sure it will pair nicely with the diamonds you're sure to be receiving for Valentine's. The Bordelle Valinia Bodysuit is available at Nancy Meyer and priced at $1,300.
Photo Courtesy of Agent Provocateur
Maybe it's because we love Agent Provocateur's latest campaign, or because they have some of the sexiest lingerie around, but no Valentine's list is complete without the British brand. For the best blend of sultry and naughty we love the Demelza set. The bra, brief and suspenders are made from ultra-fine Bobbinet tulle with crisscrossing rouleaux silk bindings and Sophie Hallette lace motifs. The sheer paneling and geometric designs take the eye to all the right places, making for an eventful night. The Agent Provocateur Demelza collection is available at Agent Provocateur and priced from $190-$330.
Photo Courtesy of Eres
There's something so sweet and innocent about pale pinks and nudes; they just makes us want to skip through a field of flowers. And while we don't recommend actually running through the park in your skivvies, there's nothing wrong with lounging around your living room with the bouquet of roses your sweetie sent over. The Eres Medieval Atours bra and panty feature Leaves lace patchwork, Chantilly lace and an underwire-free cup. Eres Medieval Atours bra and panty are available online at Eres and are priced at €225 (approx. $304) and €160 (approx. $216) respectively.
Photo Courtesy of Fleur of England
For the most sparkling look of the night, Fleur of England's All that Glitters collection is part fantasy, part fairy tale. You're not going to need a glass slipper, but you might want one. Made for a princess, the bra is fashioned of Italian Chantilly lace, invisible Italian tulle and silk straps. The thong and suspender belt are composed of silver, hand-foiled Chantilly lace in platinum silk. You don't even need a Prince Charming for this set—just grab a glass of wine, slip into your new lingerie and settle in for a Once Upon A Time Netflix marathon. The Fleur of England All that Glitters set is available online at Fleur of England and priced from £75.50 (approx. $123)-£172 (approx. $281).
Photo Courtesy of I.D. Sarrieri
As much as women want to look sexy on Valentine's Day,they want to be as comfortable as possible too. There's no point in getting gussied up if lace is going to be itchy, straps are digging into your skin and nothing is being held up. The Margaux collection from I.D. Sarrieri treads the middle ground with a line that's both comfortable and sensual. Made with couture Chantilly lace and fine tulle, it also comes with stretch silk satin, gentle underwires and half padded cups to keep you comfortable and in place. The I.D. Sarrieri Margaux set is available online at I.D. Sarrieri and priced from $123-$227.
Photo Courtesy of Faire Frou Frou
If you prefer to leave very little to the imagination, or just want to cater to your lover's fantasies, the Lascivious Mai Basque chemise will likely be your new go-to for any date night. Textured black tulle over sheer nude fabric gives peaks at the skin underneath without revealing too much. This is easily the trendiest piece on the list with Gaga-esque flared hips, leather trim and a caged pattern. The Lascivious Mai Basque is available online at Faire Frou Frou and priced at $430.
Photo Courtesy of La Perla
In the event you totally forgot to get your Valentine a gift (hey, it happens) you can always wrap yourself up in a bow. But go for tasteful rather than tacky in this La Perla Private Allure set. A push up bra and brief in tulle with satin inserts and macramé bows makes for the perfect present. La Perla Private Allure Bra and Briefs are available at La Perla and priced at $228 and $118 respectively.

Excerpt from –