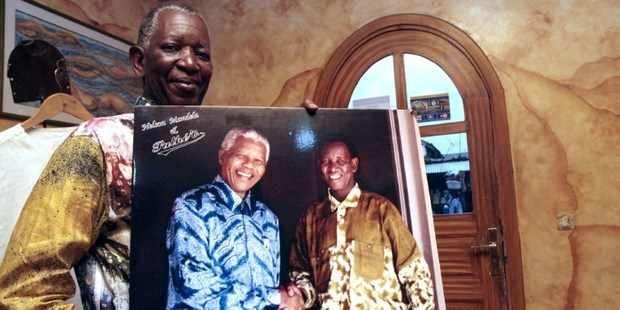 Pathe Ouedraogo holds a photo of Nelson Mandela shaking hands with him. Photo / AFP
Pathe Ouedraogo can barely keep up with demand for his "Mandela shirts" since Nelson Mandela died.
The man whose designs were made famous by the anti-apartheid icon has fond memories of his most high-profile client, who was "not afraid" to show the world who he was through his trademark colourful shirts.
"All the shops have been calling," he said, raising his voice above the hum of sewing machines and African music in his bustling workshop in Abidjan, where some 30 workers are racing to fill orders.
"We had a special stock prepared, but it's all gone. We're making more," the tailor said, clad in his own Mandela-style flowing shirt of blue and pink batik prints with yellow sleeves.
In his boutique across from the workshop photos of celebrity clients line the wall, including Naomi Campbell, Archbishop Desmond Tutu, former UN chief Kofi Annan and his favourite customer Mandela.
Ouedraogo said Mandela was a world leader who dared to dress differently on the global stage, shunning the standard uniform of a dark suit to proudly wear shirts that celebrated African patterns and colours.
"He was someone who... lived how he wanted to live. He was daring, he was not afraid to wear this, he was not embarrassed," Ouedraogo said.
He said his relationship with the Nobel Peace laureate began "in 1994 or 1995" when South African singer Miriam Makeba bought some of his shirts as a gift for Mandela, and Ouedraogo threw in a couple more.
"Later I received a handwritten letter from him that said: 'The Africa of tomorrow belongs to the creators of richness'."
The pair met face-to-face in 1998, when then-president Mandela spent half an hour with him on the sidelines of an African summit.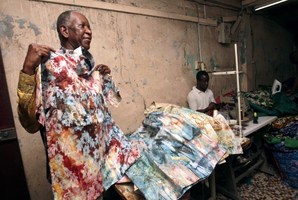 "Very often when you are received by heads of state, there is a barrier between you. But not with him," Ouedraogo said.
"He listened to me. He took me by the hand even though he had never met me. We went for a walk in the garden."
After that encounter, Ouedraogo became known as Mandela's tailor.
His Pathe O shirts, which range in price from 15,000 to 120,000 CFA francs (about NZ$40 to $300) are now sold in around a dozen African capitals, and Ouedraogo readily admits he has Mandela to thank for being his brand ambassador.
"Many people benefited from his name, including us," he said.
Ouedraogo said he would travel to South Africa to pay his final respects to Mandela, whose body is lying in state in Pretoria ahead of his funeral on Sunday.
He said he wanted to pass on his condolences to Mandela's family. "He was like a father to me."